Madeline B's quilt &nbsp (Quilt Completed)
Born:
2013
Illness:
HIE, Cerebral Palsy, DeafBlind

Theme: Butterflies

Quilt delivered: 3rd Nov 2014
Thank you
It has arrived and it's a hit!

The amount of work that has gone into making the quilt is breathtaking and we can't thank everyone enough for creating Maddie something so special. We will treasure it! Thank you all so very much x
Finished photos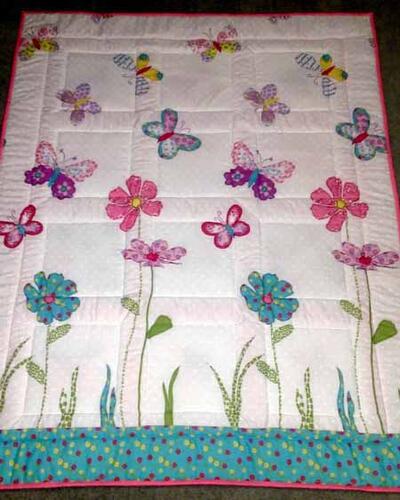 Quilted by:
Carol
Individual squares
Fabric
Card

Stitched by: Judith Saebel
Biography
Madeline has HIE due to a lack of oxygen at birth and this has caused lots of other problems.

She is Deafblind, has spastic quadriplegia, epilepsy, constant vomiting and a gastrostomy because of a weak suck and swallow.

She needs constant care but is an absolute joy.