Leia M's quilt &nbsp (Quilt Completed)
Born:
2010
Illness:
Pallister-Killian Syndrome

Theme: Hello Kitty

Quilt delivered: 17th Jan 2015
Thank you
Thank you to everyone who put the work in to make Leia her quilt. It's absolutely amazing! You're all wonderful people, and it really is a fantastic thing you all do! Thank you so much!
Finished photos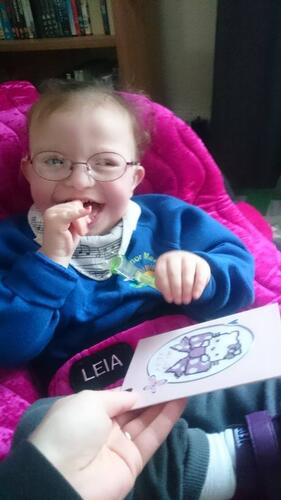 Quilted by:
Vicky
Individual squares
Fabric
Card

Stitched by: Janet Ramsden
Biography
Leia was born at 37+4 weeks gestation, weighing 6lbs 13oz. It was clear from the beginning that something wasn't quite right, as she had what were described as "dysmorphic features". She struggled to feed, and ended up in NICU, where she was treated for suspected sepsis, jaundice, and had an NG feeding tube put in. She was discharged a few days later, after having a blood test to check for Down Syndrome, which came back negative.
The next 8 weeks were a battle of trying to get her to feed, and just as worryingly, trying to keep her breathing as she would often stop, to-ing and fro-ing from the hospital, being told that they didn't know what the problem was. Admitted at 4 weeks old, Leia had an NG tube put in again, and sent home a few days later. At 8 weeks, she was admitted again, but this time was kept in for a month. She came home on oxygen, and with a feeding tube.

Met geneticist in February 2011, as we still had no idea what was causing her problems. In April, we received her diagnosis - Pallister-Killian Syndrome.
June 2011, Leia got her gastrostomy tube in her tummy, and that's still how she "eats" now.

We had a fair bit of early intervention from physiotherapy, Portage, Speech and language therapy, and then last year, aged just 2, Leia started a special needs nursery. Now, at nearly 4 years old, she is thriving, but still severely delayed in all aspects. She cannot talk or walk, but is quite a content little girl.