John William B's quilt &nbsp (Quilt Completed)
Born:
2009
Illness:
Dyskenetic Cerebral palsy

Theme: Shaun the Sheep and Timmy Time

Quilt delivered: 18th Sep 2015
Thank you
Thank you so much to all the amazing, talented and lovely people who stitched this quilt for John, it is more perfect than we could have imagined!! Thank you so much for your kindness xxxx
Finished photos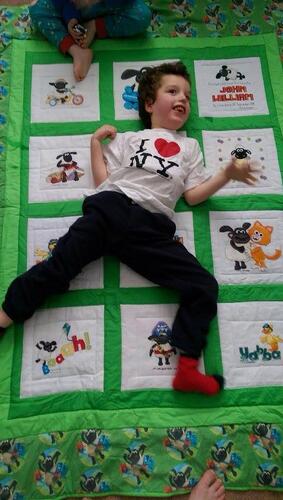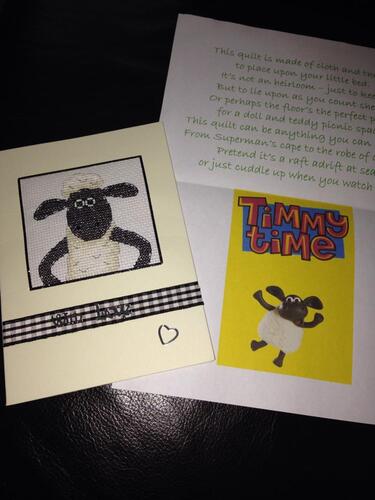 Quilted by:
Sandra (Beds)
Individual squares
Fabric
Card

Stitched by: Heather Jepson
Biography
John was born full term after a healthy and uneventful pregnancy. Due to complications at birth John was starved of oxygen and was born with an apgar score of 0. He was resuscitated and spent the next 21 days in hospital fighting to live. We knew from his first week that he would have some sort of disabilities but we did not get a formal diagnosis till he was a few months old.In 2012 John had his first tonic clonic seizure and in March that year we nearly lost him again when he went into epileptic status (continuous prolonged seizure) he was intubated and in PICU for 3 days, he finally woke up fully after 5 days.
John is now nearly 6 and is doing well, there are many things he can't do and he requires help with everything from sitting to feeding but he is adventurous, happy, cheeky and stubborn. He now has a little brother Matthew who's hair he likes to pull. Matthew has really help John develop his social awareness and relationships.