Toby P's quilt &nbsp (Quilt Completed)
Born:
2006
Illness:
Lenox-gastaut syndrome

Theme: Mickey Mouse, Donald Duck, Goofy

Quilt delivered: 9th Dec 2015
Thank you
Toby's quilt came!!!!! 😄😊 it is absolutely amazing! Thank you so very much to everyone that was involved in the making of this beautiful quilt! It will be very much loved by Toby! As you can see in the photos he is already making good use of it!
Finished photos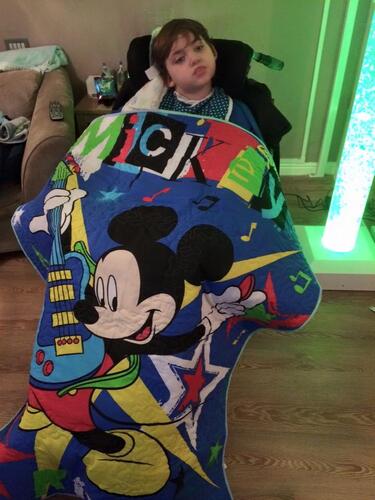 Quilted by:
Mary
Individual squares
Fabric
Card

Stitched by: Alison Lawton
Biography
Toby was born a healthy 8lb 1oz but at 3 months old we noticed he was having seizures and not developing in the way he should. He had many tests and at 5 months old was initially diagnosed with West Syndrome, although they were never really convinced of this as he was so complicated.

As he grew his seizures got worse and different types of seizures emerged. He was seen in several different hospitals including Great Ormond Street for different treatments but unfortunately nothing worked.

Toby also has a low immune system so spends a lot of time in hospital for infections. He has recently been diagnosed with severe obstructive sleep apnea syndrome which causes him to stop breathing 10 times an hour during sleep because his airways keep collapsing. He suffers now with around 100 seizures a day and has global development delay, he is fed through a gastrostomy and is doubly incontinent.

BUT he is my world, he lights up every room and makes me and everyone around him so happy! He's the strongest person I know and I'm immensely proud of him!