George M's quilt &nbsp (Quilt Completed)
Born:
2012
Illness:
Spastic Dystonic Cerebral Palsy

Theme: Sea Life

Quilt delivered: 25th Jan 2016
Thank you
We received the quilt and honestly I am lost for words. Not only is it a stunning pattern and beautiful material but it is so very well made and you can see how much love and attention has been put in to it.

Please pass our thanks and love on to everyone that played a part in George receiving the beautiful quilt
Finished photos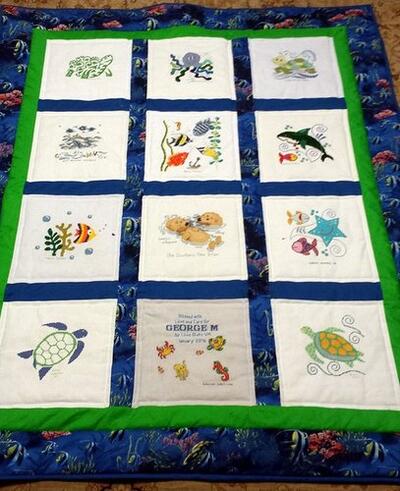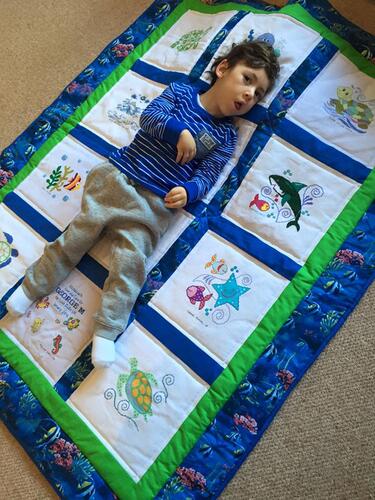 Quilted by:
Heather
Individual squares
Fabric
Card

Stitched by: Leanda Vickers
Biography
George was born in October 2012 in Queen's Hospital in Romford and due to some complications during the labour he was born with damage to his brain. He has been diagnosed with Severe HIE Grade 3 (Hypoxic Ischemic Encephalopathy), which is a lack of oxygen to his brain at birth.

George spent the first 7 weeks of his life in hospital and unfortunately his condition will stay with him for the rest of his life and he will be spending a lot more time in various hospitals. None of the Doctors he has seen have been able to tell us what the future holds for him but one thing that is for certain is that life will be far from easy.

He has had 19 hospital admissions and too many ambulance trips to count. He has a lot of muscle problems and the on set of scoliosis and a dislocated right hip but he works very hard with us his parents to achieve as much as possible.