Phoenix H's quilt &nbsp (Quilt Completed)
Born:
2005
Illness:
Cystic Fibrosis

Theme: Angels and Hearts

Quilt delivered: 13th Oct 2016
Thank you
There are not enough words to express our sincere gratitude for Phoenix's love quilt. We are so thankful to all of the special people who have been involved in producing this truly beautiful quilt. Now when Phoenix has challenges to face she will be well and truly wrapped in love. Xx
Finished photos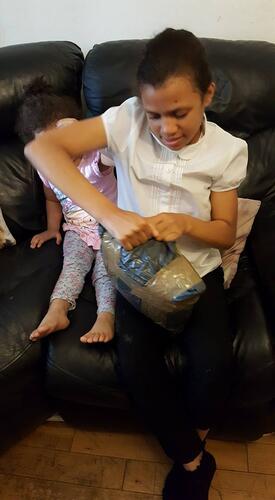 Quilted by:
Carol
Individual squares
Fabric
Card

Stitched by: Emily Baker
Biography
Phoenix was born in October 2005, weighing a very cute 5lbs 11oz. When she was just 2 weeks old she developed a troublesome cough, but we were reassured by our G.P that it was probably just birth fluid due to the quick labour and delivery and it was likely to right itself soon.

A few weeks later, the cough was still there along with episodes of projectile vomiting and very slow weight gain.We took her along to the out of hours badger clinic and we were told that Phoenix had a bad case of reflux that had caused irritation to her windpipe, therefore causing the ongoing cough and the sickness was responsible for the slow weight gain. We were advised to put her to sleep in her car seat overnight to keep her in a more upright position and she was given some infant gaviscon.

A few more weeks passed and we had seen no improvement, infact she had got gradually worse. The cough was still there, and she was dropping off the centile chart for her weight, she was now starting to refuse her milk.We took her back to the G.P, and were told that her chest was clear and she appeared to be okay, but he did refer her to a specialist due to her failure to thrive. We were sent home to wait for an appointment.
The following day we were so worried we took her to the A&E department at Solihull hospital.

After a chest x-ray we were sent over to Heartlands Hospital and she was kept in for a course of I.V antibiotics. Phoenix had actually developed pneumonia.
The Dr explained to us that she was going to arrange a sweat test for Phoenix to look for a condition called Cystic Fibrosis.
At the end of January 2006 it was confirmed that Phoenix had got Cystic Fibrosis. Medication started straight away, including enzymes to help her digest her milk, extra calorie milk to help her gain weight, vitamins and antibiotics to help prevent any further infections. We were also advised to wean her onto solid food early to help with the weight gain. We were also shown how to give her chest therapy twice a day, which involved tapping on her chest to loosen the thick sticky mucus that was clogging her lungs.

Since being diagnosed over 10 years ago, the list of medication has grown. She currently takes about 35 tablets every day as well as a nebulizer and physiotherapy twice a day. She has recurrent chest infections, and has had several hospital admissions for I.V antibiotics.

In September 2012 a routine check up showed that she had grown a nasty bug call pseudomonas aeruginosa which can cause damage to the lungs and be difficult to get rid of unless treated promptly. She grew this bug again in July 2013 and again in October 2015.

She has recently been diagnosed with cystic fibrosis related diabetes, which means she now has to check her blood glucose levels 4 times a day and give herself an injection of insulin every day.

Despite the numerous issues that Phoenix has to deal with every day she has a very sunny nature and tackles any problems head on with a strength that is truly inspiring. We could not be more proud of Phoenix and we feel blessed to have her for our daughter as well as her 4 siblings, Portia (15), Dante (11), Gabrielle (22 months) and Ariel (13 weeks) We all remain hopeful that one day a cure may be found and made available, but until then each day is a battle to keep Phoenix as healthy as possible for as long as possible.