Jemima P's quilt &nbsp (Quilt Completed)
Born:
1999
Illness:
Myotonic Dystrophy type1

Theme: Rainbows and Hearts

Quilt delivered: 30th Dec 2018
Thank you
Thank you
Finished photos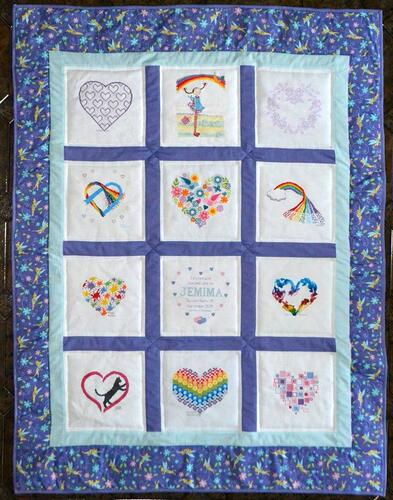 Quilted by:
Leanda
Individual squares
Card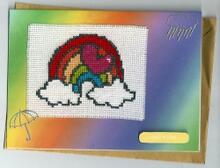 Stitched by: Leanda Vickers
Biography
Jemima was very stressed during birth but then settled, met all her benchmarks and was walking by her first birthday. Issues started when she started nursery school. Everything about learning was a struggle and writing seemed to be an issue. I did extra work with her at home but she struggled to try and keep up.
After her diagnosis she got extra help 1:1 in main stream but finished school with 1 G grade GCSE which I'm very proud of her for getting. Now she's in college doing basic living skills and it's very hard going. She doesn't make friends well, everything is a total stress and she's anxious about everything.
She's now getting more affected by the MD sleeping 14-15 hours a day and sleeping at the drop of a hat. She volunteers 2 hours a week at a charity shop and that knocks her for 6 for the rest of the day.