Jayden T's quilt &nbsp (Quilt Completed)
Born:
2006
Illness:
Congenital heart disease

Theme: World Landmarks

Quilt delivered: 23rd Jan 2020
Thank you
Jayden's quilt arrived today, and I just wanted to say a massive thank you from myself and Jayden for this beautiful quilt! Jayden loves it, and we are so grateful to everyone that put so much hard work into making it for him.

Finished photos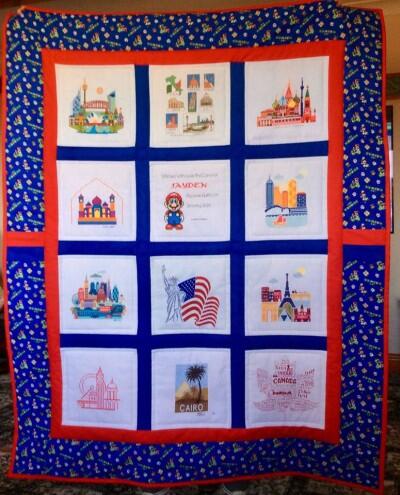 Quilted by:
Jan S (Lincs)
Individual squares
Card

Stitched by: Jade Kenny
Biography
Jayden was a normal delivery, but a few hours after he was born we noticed that something wasn't right with his breathing. He was transferred to the neonatal unit where he was diagnosed with two heart defects that required immediate open heart surgery.
Fifteen months later he required a second open heart surgery and also had a pacemaker fitted. Since then Jayden has been diagnosed with autism and 47xyy syndrome. He will always have to be monitored and currently attends a special needs school.