Morgan L's quilt &nbsp (Quilt currently being assembled)
Born:
2004
Illness:
Cerebral palsy

Theme: Vehicles

Quilt currently being assembled
Biography
Morgan was born at 31 weeks. He presented healthy at birth, but at 4 weeks old the hospital staff noticed that his head felt squidgy which spiralled into lots of brain scans. The first ultrasound showed fluid on the brain and he needed a transfer to another hospital.

5 days after his first scan Morgan had a VP shunt fitted. He did amazingly well and was discharged just 3 days later. All of this was a complete whirlwind and meant we had lots of appointments with specialists.

At 3 years old Morgan developed epilepsy which, for me, was the hardest part as this completely changed Morgan. We were lucky and managed to find medication that worked well. Morgan is generally a pretty well child and we have escaped hospital quite a lot. In 2012 Morgan had pnuemonia and in 2017 he underwent hip surgery which made him very poorly and ended up with 13 weeks off school.

Morgan is now 15 and a cheeky chap with a love for life.
Patterns
1.
Mini Cooper - from LQ Files
Stitcher: Barbara, Midhurst , UK
Received


2.
LQ files Monster Truck by Beth
Stitcher: Val Gilbert, Coningsby , UK
Received


3.
Cross Stitch Card Shop, issue 85 Selection of vehicles
Stitcher: Helen, Swindon, UK
Received


4.
Climbing Goat Designs car, truck & helicopter
Stitcher: Emma, Bedford, UK
Received
https://www.etsy.com/listing/467124112


5.
VW Campervan - side view
Stitcher: Emma Swift, Aberdeen, UK
Received


6.
Bothy threads Cut thru ice cream van
Stitcher: Julie Edgcumbe, Haverhill, Suffolk, UK
Received


7.
Climbing Goat Designs. Silhouette effect racing car.
Stitcher: Diana, Sussex, UK
Received


8.
LQ Files Holden Car by Beth Filmer
Stitcher: EE(Beth)Filmer, Adelaide, Australia
Received


9.
Love quilts file Police motorbike
Stitcher: Lynn Fletcher, Fletchertown, UK
Received


10.
Permin of Copenhagen kit Realistic Green John Deere Tractor
Stitcher: Nicola, St Albans, UK
Received


11.
The Stitch Patterns shop on Etsy Yellow digger
Stitcher: Jan , Lincs, UK
Received


12.
Label
Stitcher: Jeanne, Texas, USA
Received
Squares received

Stitched by: Jeanne
Submitted: Nov 2019


Stitched by: Barbara
Submitted: Jan 2020


Stitched by: Val Gilbert
Submitted: Nov 2019


Stitched by: Helen
Submitted: Jan 2020


Stitched by: Emma
Submitted: Nov 2019


Stitched by: Emma Swift
Submitted: Jan 2020


Stitched by: Julie Edgcumbe
Submitted: Nov 2019


Stitched by: Diana
Submitted: Nov 2019


Stitched by: EE(Beth)Filmer
Submitted: Nov 2019


Stitched by: Lynn Fletcher
Submitted: Jan 2020


Stitched by: Nicola
Submitted: Nov 2019


Stitched by: Jan
Submitted: Oct 2019
Card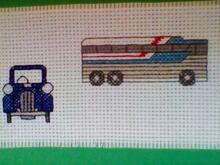 Stitched by: Marie Firth