Lillie-Ann A's quilt &nbsp (Quilt Completed)
Born:
2015
Illness:
Acute Lymphoblastic Leukaemia

Theme: Princesses

Quilt delivered: 14th Feb 2020
Thank you
Thank you all so much for Lillie's quilt. 💜
It couldn't have come at a better time as she isn't well atm and really put a smile on her face.
Finished photos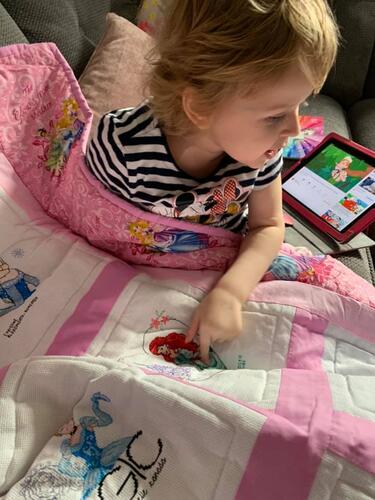 Quilted by:
Tracey E
Individual squares
Card

Stitched by: Laura Sergebeer
Biography
Lillie was 3 and half when she was diagnosed with ALL.
She is always a happy little girl but also a stubborn little thing too - even through the couple of weeks of her struggling with not being well before we found out she had cancer. She has had a tough year with far more than any 3 year old should go through. She is now 4 and half and starting school this year, although she doesn't get to go much!
Her chemo and treatment has been so harsh on her little tiny body with a lot that her body struggles to balance. Ups and downs and in and out of hospital weekly at some stages of her treatment. I've lost count of the different types of chemo she has received, something such a little body shouldn't have to go through.
She still manages to smile everyday. I don't know how she does it! We are now finally into her maintenance treatment for another 14 months of 4 weekly chemos at hospital, steroids, chemo at home and unknown times we will be back in hospital.