Ellis S's quilt (Quilt Closed)
Born:
2007
Illness:
Noonan's Syndrome and Hypertrophic Cardiomyopathy.

Theme: Hearts

Date opened: 25th Jan 2020
Date closed: 27th Jan 2020
Deadline: 26th May 2020


Child Interests
Ellis is a bit of a dare devil - her favourite thing is roller coasters but sadly we can no longer do this. We have lots of other fun, she loves to dance, walk in the woods, splash in muddy puddles, climb, draw, and is so kind to others. She is constantly smiling.
Her favourite colour is pink, any shade as long is its pink.
Biography
I always knew there was something not quite right with Ellis, it always niggled at me. At 20 weeks we were told she needed glasses, at 6 months she was diagnosed as dairy intolerant. She met milestones late, not that I cared I was just grateful we had a daughter after a very traumatic birth. We had lots of referrals to different doctors but were not really told anything - perhaps I was mad I thought. Around 5 they did a series of genetic tests but nothing was conclusive. She is a vegetarian from 2 with food phobia. In December 2016 her dad was diagnosed with HCM - we were strongly advised to screen Ellis as this is genetic. We went to the Brompton for a series of tests with her and we were told on the same day she too had HCM. Blood was taken for genetics which was rushed through. In Oct 2017 we were were told that they both had Noonan's Syndrome.
Patterns
1.
Lucie Heaton design in Cross stitch crazy magazine Heart of trees in pink
Stitcher: Nicola, St Albans, UK
Received


2.
From etsy. Heart with two butterflies sitting on top of it.
Stitcher: Anne, Sandefjord, Norway
Received


3.
AAN. Cour felice heart.
Stitcher: Jenny Elkington, Boston, UK
Received


4.
Square Heart by Climbing Goat Designs
Stitcher: Val Gilbert, Coningsby , UK
Received


5.
Climbing goats designs 9 styles of different hearts in pinks
Stitcher: Paula Dewar, Glasgow, Scotland
Received


6.
Full of heart pastel hearts by lucie heaton Cross stitch crazy 264 Pastel heart designs
Stitcher: Jodie Balaam, Lawshall, England
Received


7.
Https://www.dmc.com/uk/heart-confetti-pattern-9006433.html Heart confetti dmc pattern
Stitcher: Jennie, Worcester, England
In Progress
https://www.dmc.com/uk/heart-confetti-pattern-9006...


8.
Celtic Knot Heart
Stitcher: Sarah, Sale, UK
In Progress


9.
Heart in pink tones designed by myself
Stitcher: Donna Sharpe, Chesterfield, UK
In Progress


10.
Climbing Goat Heart with concentric circles
Stitcher: Hannah , Wirral, UK
Received


11.
Blackwork heart by Peppermint Purple Blackwork heart (will stitch in pink)
Stitcher: Carol Ayling, Copthorne, UK
In Progress
https://peppermintpurple.co.uk/blackwork-heart/


12.
Label
Stitcher: Jan G, Hull, UK
Received
Squares received
Card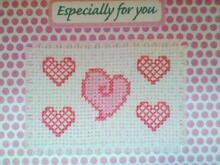 Stitched by: Sandra