Evie-Lilly G's quilt (Quilt Closed)
Born:
2013
Illness:
Quadriplegic cerebral palsy.

Theme: Dinosaurs

Date opened: 25th Apr 2020
Date closed: 22nd May 2020
Deadline: 26th Aug 2020


Child Interests
Evie enjoys listening to stories and loves music. She loves wind and bouncing. She also loves lots of cuddles with her mummy. Evie loves dinosaurs. We call her Littlefoot from the film Land Before Time because the storyline fits so well with our daughter's. Evie loves tactile objects, furry, smooth, scaly, bumpy, rough, smelly and loves a range of sounds. Evie is a girly girl who loves dinosaurs. Pinks. Purples and greens.
Biography
Evie-Lilly is a beautiful, intelligent and adventurous 7 year old girl with an ability to bring light to the darkest of places. She was born with severe brain damage due to multiple strokes that have affected her movement and sight profoundly. Evie has been diagnosed blind and has quadriplegic cerebral palsy so cannot walk, sit, crawl. She is non verbal and has a life limiting/threatening condition.

Evie's brain for some reason unknown wasn't made correctly. The blood vessels are narrow and flimsy. Major vessels are missing. As a result she has incurred blockages in the blood vessels causing strokes to numerous areas of the brain.

Evie has had 2 brain operations to try and encourage oxygen to the brain by drilling holes into her skull in the hope vessels on the outside would thread through into the brain to get it much needed oxygen to prevent any more strokes.
This surgery has prolonged her life.

Evie has also had a heart operation at a month old to correct an open duct. It was at this operation her brain condition and profound disabilities were picked up. Evie has also had a Nissen fundoplication to tie her stomach to stop severe reflux and a gastrostomy so Evie could feed via a tube into her stomach.

Evie has a host of medical problems such as increased saliva and has had surgery to limit this production. She also has bronchial malacia, meaning her left bronchial tube that goes to her lung is extremely floppy so air can become restricted, meaning breathlessness is something she struggles with and chest infections.

Evie also experiences seizures and dystonia attacks.

However despite all this, Evie is a happy little soul who loves music and stories. She thrives off praise, using her frustration to gain skills we have worked hard to get. Evie explores through touch and sound to "see". She has a Bucket List... Her "living list" to experience everything this world has to offer.
Patterns
1.
Dragon Guster By cross stitch wonders Buster will change the colours
Stitcher: Moira Anne Jeffcoat, Birmingham, England
Received


2.
Clever Girl Cross Stitch Pattern. Velociraptor Dinosaur Jurassic Park
Stitcher: Alisha, Birmingham, UK
In Progress
plasticlittlecovers - etsy


3.
Brontosaurus by Climbing Goat Designs
Stitcher: Erica Turner, Penarth, Wales
Received
https://www.etsy.com/uk/listing/579194678/dinosaur...


4.
VladaXStitch Dinosaur landscape in a circle
Stitcher: Jan G, Hull, UK
Received


5.
Dinosaur shape made out of smaller dinosaurs and dino eggs in various colours
Stitcher: Emma Swift, Aberdeen, UK
Received


6.
The Dinosaur Book, Jeanette Crewe Designs Triceratops
Stitcher: Rosemary Binnie, Macclesfield, UK
Received


7.
Dinosaur by Pixlstitch A collection of small dinosaurs in the shape of a large dinosaur.
Stitcher: Elenore , Aberdeen, UK
Received


8.
The good dinosaur with Arlo and Spot
Stitcher: Sylvia, Clacton, England
Received


9.
From Crosstitch.com Triceratops and Velociraptor.
Stitcher: Anne, Sandefjord, Norway
In Progress


10.
Dinosaurs by Alisa Okneas Cute/comic selection of dinosaurs
Stitcher: Kaz Bowen, Wakefield, UK
In Progress
https://smartcrosstitch.com/free-cross-stitchpatte...


11.
Climbing Goats Triceratops
Stitcher: Eileen, Newcastle, UK
Received


12.
Label
Stitcher: Sandra, Shefford, England
Received
Squares received
Card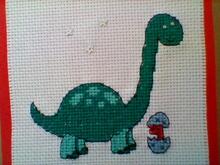 Stitched by: Sarah Murphy