Edith W's quilt (Quilt Closed)
Born:
2010
Illness:
Cystic Fibrosis

Theme: Flowers, hearts and butterflies

Date opened: 5th Aug 2020
Date closed: 7th Aug 2020
Deadline: 26th Nov 2020


Child Interests
Dancing, gymnastics, rainbows, hearts, pastel and sea colours, flowers, butterflies, the sea, swimming, Brownies
Biography
As our firstborn and with no indications during pregnancy, it was a complete shock to be called into the hospital when our daughter was 3 weeks old and told that she had been diagnosed from the heelprick, with the inherited life limiting condition Cystoc Fibrosis. Although I knew what the condition was, neither I nor my husband had any idea what this would mean for our daughter or how it would change our lives so fundamentally. Shock and fear first hit, then the guilt we'd 'given it' to her. In hindsight, in the first 3 weeks there were signs; the inability to feed the first few days she was born as she was so lacking in energy, the multiple feeding soon as she did start taking milk, the smelly, explosive nappies and the weight gain was not as expected.

Edith was quickly given pancreatic enzymes and vitamin supplements. We were taught manual physio to clear her lungs and nebulisers soon followed. Edith coughs, and clears her lungs a lot, especially at night when flat which disrupts her sleep and fatigues her daily.

Edith needs to eat a LOT, and struggles to be at a normal weight. She gets continual lung infections and has multiple antibiotics and several 2 week hospital stays for IV antibiotics, a Bronchoscopy and intensive physio to clear her lungs and infections. Edith's daily regime is over 40 tablets and intensive treatments and she has to miss school and many activities her friends are allowed.
Patterns
1.
AnimalCrossStitch Etsy Flower heart Cross Stitch Pink and purple Flowers
Stitcher: Alisha, Birmingham, UK
In Progress
https://www.etsy.com/uk/listing/524811385/flower-h...


2.
Climbing goats designs 9 different mini hearts
Stitcher: Paula Dewar, Glasgow, Scotland
Received


3.
DMC Floral heart Floral heart and butterflies
Stitcher: Heather, Littleborough, England
In Progress


4.
Coeurs D'Isa Butterfly Heart.
Stitcher: Leanda Vickers, Oldham , England
Received


5.
"Hearts & Butterflies" Designer: Gail Bussi Cross Stitch Crazy mag 2011 Heart-shape design formed from butterflies and flowers
Stitcher: Sharon, Kenilworth, UK
Received


6.
MotherBeeDesigns. Heart with two butterflies sitting on top.
Stitcher: Anne, Sandefjord, Norway
Received


7.
Floral Beauty in Cross Stitch Susan Bates floral heart
Stitcher: Jan S, Enid, Oklahoma, USA
In Progress


8.
New Stitches magazine no. 23 A pair of Red Admiral butterflies
Stitcher: Sue Torode, Farnborough, UK
Received


9.
LQ files Spring wreath
Stitcher: Claire Glover, Andover, UK
Received


10.
WOXS Issue 254 Heart collage of flowers
Stitcher: Ann, Billericay, UK
Received


11.
Heart in pastel colours
Stitcher: Nicola, Elland, UK
In Progress


12.
Label
Stitcher: Jenny Elkington, Boston, UK
Received
Squares received
Card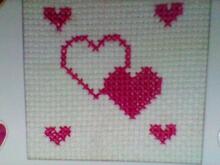 Stitched by: Jodie Balaam