Hannah K's quilt &nbsp (Quilt Completed)
Born:
2003
Illness:
Undiagnosed

Theme: Dutch theme

Quilt delivered: 15th Jun 2021
Thank you
Hannah with her quilt! We would like to thank everyone who has made this possible. All the amazing stitchers who took time from their days to make the squares, the quilters and the card maker. We are truly grateful for all your hard work and kindness in making this quilt for my daughter. It means so much to us, as it is a tribute to Hannah's grandparents who have passed away and also to her Dutch heritage. It has come just in time as Hannah is due to go in for a operation on the 28th June to have a ace procedure and have part of her colon removed so we know this quilt will give Hannah great comfort as she recovers :) Thank you from the bottom of our hearts and god bless each of you involved.
Finished photos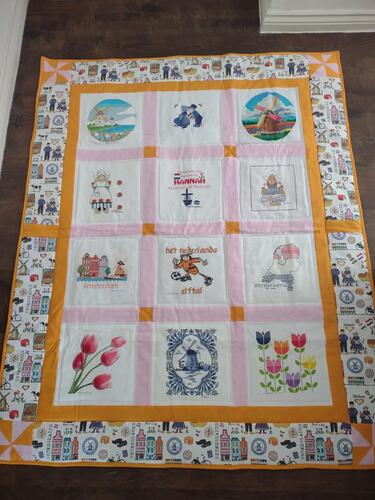 Quilted by:
Heather
Individual squares
Card

Stitched by: Heather Jepson
Biography
Hannah was born in September 2003, a beautiful healthy baby weighing 8lbs.

Hannah started having seizures at 6 months old. She would have them every day and throughout the day. Her seizures are now under control with her medication, and she has grown into a beautiful young lady who suffers from severe global developmental delay. Hannah is 17 years old now but mentally is just about 1 years old. She has had 2 lots of surgeries for her scoliosis as her seizures are so bad they snapped her 1st set of spinal rods, so she now has a spinal fusion and rods to help keep her spine relatively straight so as she does not crush her organs.

Hannah is a beautiful, happy and content young lady who has gone through a lot in her 17 years. She has had lots of surgeries throughout her life to correct one thing or another. She has had lots of hospital stays for weeks and months at a time, but each time Hannah is always smiling and laughing and always giving us hope. She has changed our lives for the better and we as a family are blessed to have her.