Rueben's quilt &nbsp (Quilt Completed)
Born:
2019
Illness:
Subacute infarcts (brain injury)

Theme: Lions, dinosaurs, pandas and bunnies

Quilt delivered: 2nd Oct 2021
Thank you
Rueben's quilt arrived today! Thank you so much it is absolutely beautiful. So thankful to everyone who participated in stitching the quilt. All the designs are so beautiful. Rueben's I'm love with his quilt, thank you again to everyone who made this special for him
Finished photos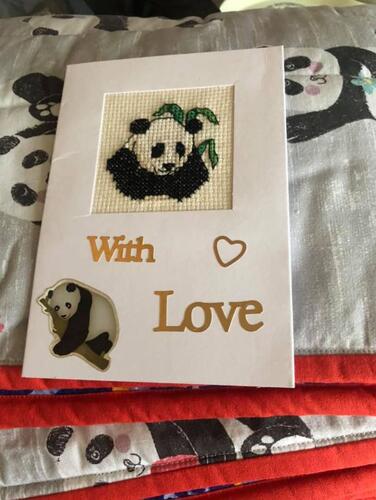 Quilted by:
Jill
Individual squares
Card

Stitched by: Jodie Balaam
Biography
Rueben was a happy and healthy little boy and met all of his milestones from being born. He never was a sick baby and I never had any concern about him but only shortly into the new year of 2021 our lives got flipped upside down and I feared I would no longer have my baby with me.

Rueben was intubated at the end of January after rapid swelling of the neck, head and throat and a cut on his lip which hadn't healed within 5 days but was getting worse and starting to go necrotic. A CT scan confirmed that Rueben had a swollen lymph node and blood tests confirmed that he had sepsis, streptococcus and staphylococcus and he had no immune system. A bone marrow test was carried out and Rueben was diagnosed with acute lymphoblastic leukaemia. The next day another bone marrow test was carried out and also a lumbar puncture and a chemotherapy plan was set into place and signed for. The haematologists came back and said the findings of the second bone marrow test showed that the leukaemia was improving on its own. They contacted a leading consultant at Great Ormond Street and he said he'd seen a small minority of cases the same. He said that Rueben's leukaemia has gone into spontaneous remission but suspects the leukaemia will return and need treating in a time period of anything up to a year.

After 10 days intubated Rueben was finally woken up but over the next 2 days he showed facial weakness and couldn't move or hold his head up. He went for an MRI which confirmed an injury to the brain suspected to have been caused by sepsis. This would likely affect the left side of his body and could cause him to become stiff in his left leg or arm. A few days later Rueben had a significant bleed from his throat and was rushed to theatre. Surgeons found disturbed and angry tissue in his throat and behind his nose which couldn't be explained. This happened again the following week but that time they found that the tissue in his neck was going necrotic. The following day they carried out an MRI scan to find out the extent of the tissue damage and they also repeated a bone marrow test to make sure the leukaemia hadn't returned. Tests showed that the tissue damage wasn't as significant as they had thought and a long term antibiotic plan was put into place. The leukaemia was still thankfully in remission and he was then taken to theatre for a peg fitting so nothing was disturbing his throat so it could heal. He then had a portacath put in for his long term antibiotics and also for the use of chemotherapy in the future.

Rueben started to progress massively and made a huge recovery, more than what doctors ever thought. In just 2 months we were set a discharge day for mid March but we were officially discharged a few days later due to Rueben developing a rash due to an allergic reaction to one of the antibiotics.

Now we are home Rueben has weekly blood tests and checkups at the hospital and wait for the leukaemia to return. He will then be transferred back over to the Children's Hospital for chemotherapy and a 3 and a half year treatment plan.

Rueben has 6 weekly follow ups with ENT, Neurology, Ophthalmology and Plastics and has 4 weekly visits to see his haematologist. He's working closely with speech and language, physio and the occupational therapist to work on his speech, eating and drinking, small and big movements. Our aim is to get through the summer and his second birthday before needing treatment.