Dade H's quilt &nbsp (Quilt Completed)
Born:
2009
Illness:
Primary generalised epilepsy

Theme: Vehicles

Quilt delivered: 2nd Oct 2021
Thank you
Thank you so much, Dade so far has refused a picture but it is beautiful. Please pass on my thanks to all the wonderful stitchers x
Finished photos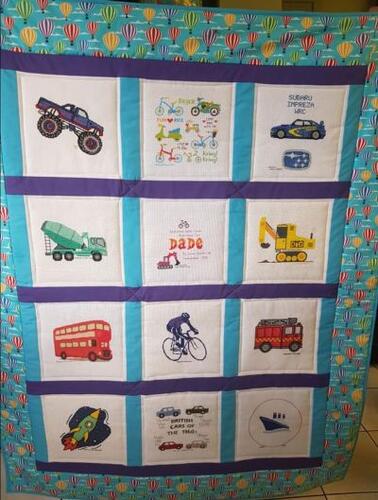 Quilted by:
Heather
Individual squares
Card

Stitched by: Audrey Taylor
Biography
Dade was born via an emergency c-section. He didn't breath for 7 minutes and began having seizures soon after birth. He has been medicated all his life and is now on 2 meds twice a day, but sadly his epilepsy is still uncontrolled. He was diagnosed with CP when he was 10 months old and soon after we found out that his hearing and sight were affected.
Dade has physio every day for up to 4 hours and we were taught how to do the exercises to strengthen his body until he learned to walk with a Kaye walker. He wears hearing aids and glasses and knows some Makaton which is how he communicates along with his communication folder.
He adores being outside and his favourite activities are cycling and playing with cars, trucks and diggers.
Dade's mental age is around 3yrs so he attends a SEN School where he has joined the secondary department.
He still has frequent seizures so he is scared to go to sleep, I spend a lot of time in his room of an evening reassuring him that he is okay and safe.