Freddie S's quilt &nbsp (Quilt Completed)
Born:
2016
Illness:
NEC - necrotising enterocolitis causing SBS, intestinal failure and cerebral palsy.

Theme: Mr Tumble

Quilt delivered: 14th Jan 2022
Thank you
Struggling to find the words to Thank you all so I have attached the photos and videos to show how much it means to Freddie. His face lit up when he saw it. He spent a long time playing with 'the tumble tap' He was delighted to spot lord tumble,tumble ted, baker tumble and aunt polly. He started singing with the star badge and said and signed all the colours and clapped to the thumbs up square. He signed party and balloons and tried to open the spotty bag . Thank you Alison, Chris, @jackie, Jodie, @julie, Nicola, Olivia, Paula, Rebecca, Ruth, Sylvia and Debbie.

The quilting is just fantastic thank you Leanda it took him a while and when he realised it was Paddington he got very excited and got his 'pad pad' his Paddington comforter and put it to bed with him under the quilt. He's covered himself up and won't come out singing so huge success.

Thanks again for all the love that goes into these quilts.

Thanks to all the admin and love of quilts team for making this possible.
Finished photos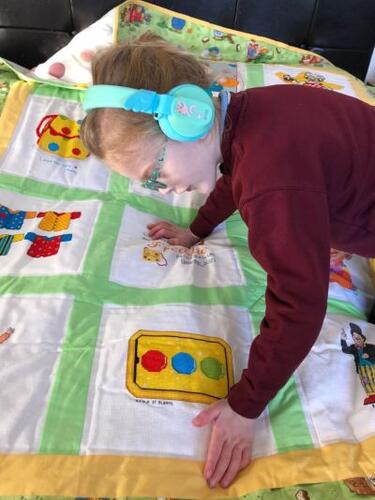 Quilted by:
Leanda
Individual squares

Stitched by: Alison (+)
Submitted: Nov 2021


Stitched by: C McDonald (+)
Submitted: Aug 2021


Stitched by: Jackie (+)
Submitted: Nov 2021


Stitched by: Jodie Balaam (+)
Submitted: Aug 2021


Stitched by: Julie Robbins (+)
Submitted: Nov 2021


Stitched by: Maz Spruce (+)
Submitted: Nov 2021


Stitched by: Nicola (+)
Submitted: Aug 2021


Stitched by: Olivia (+)
Submitted: Nov 2021


Stitched by: Paula Dewar (+)
Submitted: Sep 2021


Stitched by: Rebecca (+)
Submitted: Oct 2021


Stitched by: Ruth Horn (+)
Submitted: Sep 2021


Stitched by: Sylvia (+)
Submitted: Sep 2021
Card

Stitched by: Debbie Elkington
Biography
Freddie was born 11 weeks early, initially he was doing really well in NICU then at 10 days old he deteriorated. He was diagnosed with NEC necrotising enterocolitis, a life threatening bowel condition at 2 weeks old and wasn't expected to survive. We were told surgery wasn't an option for Freddie as it affected all of his bowel so we had him baptised on the unit and said our goodbyes. He kept fighting for a week then he perforated his bowel, they offered us surgery but were told there was less than 5% chance he would survive. We felt because he had fought and defied the odds we would take the risk of surgery.
He survived surgery but was left with a very small amount of bowel needed to absorb nutrition and fluids. We were told he may need a liver and bowel transplant and would probably never eat or drink.
We spent nearly 8 months in hospital and he continued to exceed expectations and we finally came home on intravenous nutrition. This means he has a central line that goes directly to his heart where we give his PN - parentral nutrition overnight. He does eat and drink as well but doesn't absorb enough due to his short bowel syndrome.
Freddie showed signs of significant delay which we expected due to his long admission. However, it became clear to us it was more than that.
When he was 18 months old they realised he was severely visually impaired in his left eye and short-sighted in his right eye, so he requires patching therapy and wears glasses.
Due to his continued significant delay he had an MRI scan when he was 2 which showed he had PVL brain damage most likely caused by his prematurity and NEC. He then received a diagnosis of cerebral palsy.
Freddie has just turned 5 and is doing amazingly well. He uses Makaton signs as well as talking. He walks with his walker and uses his wheelchair when he gets tired. He still requires his PN but is only on 4 nights now not 7. He attends nursery with a 1:1 and really enjoys it. He struggles with social/emotional interaction and was due an assessment for possible autism but it has been delayed due to the covid pandemic. Freddie has had a lot to deal with but he does it with a smile on his face.