Vinnie M's quilt &nbsp (Quilt Completed)
Born:
2016
Illness:
Acute Lymphoblastic Leukaemia

Theme: Animals-wild/jungle

Quilt delivered: 5th Feb 2022
Thank you
Thank you so much for Vinnies Quilt!! His sister, Orlah loves it too!! X
Finished photos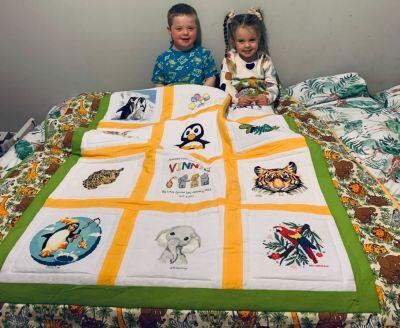 Quilted by:
Tracey E
Individual squares
Card

Stitched by: Debbie Elkington
Biography
Vinnie was born in 2016 after a traumatic birth ending in an emergency c-section.
A couple of days after Vinnie's birth a Dr noticed that he had some Down's syndrome characteristics so sent off a blood test which a couple of days later confirmed that Vinnie did have T21 Down's syndrome.
Vinnie was a healthy, happy baby who grew in a blink of an eye into a happy, healthy energetic toddler.

At the age of one, Vinnie started to have seizures and became unwell. He was then diagnosed with Infantile spasm epilepsy, which was treated with steroids & amazingly he hasn't had a seizure since the age of one!

The epilepsy didn't stop Vinnie. He continued to develop as he should, he was happy, he was cheeky & very mischievous.
Vinnie started mainstream school in September 2020 and he absolutely loves school. Luckily for Vinnie coronavirus didn't stop him accessing school. He went the whole way through! Until March 2021, a few days after Vinnie's 5th Birthday.

He started to complain of stomach pains & was in a lot of pain with it so we took him to the hospital. One week later he was discharged with antibiotics. But Vinnie never got better, as I've said previously he is always full of energy & his energy levels dipped. He didn't want to play, run about or be his cheeky, mischievous self so we knew something wasn't right still. He also was complaining of pains in both his legs.

We took him back to the Drs & they sent us on to the hospital. There he was seen by another DR who wasn't happy with his bloods so we were transferred to Birmingham Children's Hospital on 19th April 2021, exactly a month after his 5th birthday. The next day he went to surgery to have a bone marrow biopsy.

Two days later I was sat down, all alone as dad couldn't be there due to covid rules & told our son had Acute Lymphoblastic Leukaemia. Our world came crashing down & our hearts were broken.
He went on to have his central line put in which wasn't an easy ride for Vinnie. Then the Friday he had his first round of chemotherapy, which he had a bad reaction to, along with a bad reaction and now allergic to platelets.

It's 4 months into treatment & Vinnie is about to start another intensive treatment before going into maintenance for 18 months. Praying for no relapses.
Down's syndrome & Epilepsy doesn't stop Vinnie so neither will Leukaemia!!
He is our superhero!!