Phoenix G's quilt &nbsp (Quilt Completed)
Born:
2010
Illness:
Hydrocephalus, epilepsy, global development delay, tube fed, non verbal, non mobile

Theme: Space

Quilt delivered: 26th Jun 2022
Thank you
WOW. Thank you all so so much, its absolutely stunning and everyone that's seen it thinks the same! You can feel the love it was made with every time you touch it. We will be forever grateful for each of you putting in your own time and care I to making something so personal and perfect.

I don't think I can say enough thank yous or it's beautiful but here's some more...
It's beautiful! Thank you!
Finished photos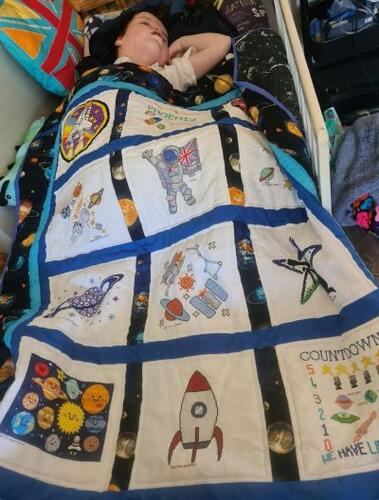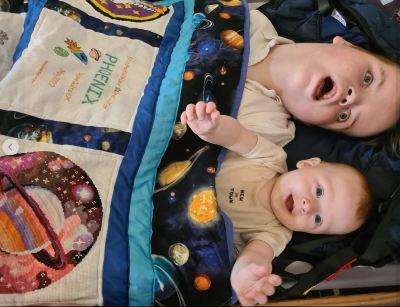 Quilted by:
Sandra (Beds)
Individual squares
Card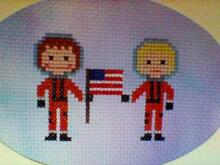 Stitched by: Diane Gant
Biography
When I was 20 weeks pregnant I was told Phoenix had hydrocephalus and that I should terminate my pregnancy. However I just knew that he would be more than they said hence the name Phoenix.

He had brain surgery just before he was 1 to ease the pressure in his brain. This worked but unfortunately left him with epilepsy which has proven almost impossible to control.

He is the cheekiest little boy with the most contagious smile. He is 11 years old with the ability of a newborn baby but when you look in his eyes you know full well he understands you and everything going on around him. He will shout if you don't say hello when you enter the room and has a wicked sense of humour. Everyone that meets him falls in love with him instantly.