Phoenix G's quilt (Quilt Closed)
Born:
2010
Illness:
Hydrocephalus, epilepsy, global development delay, tube fed, non verbal, non mobile

Theme: Space

Date opened: 20th Nov 2021
Date closed: 11th Dec 2021
Deadline: 26th Apr 2022


Child Interests
Phoenix loves all bright colours and patterns. His bedroom is made to feel like he is sleeping under the stars and he find this so relaxing. Contrasting colours catch his attention the most.
Biography
When I was 20 weeks pregnant I was told Phoenix had hydrocephalus and that I should terminate my pregnancy. However I just knew that he would be more than they said hence the name Phoenix.

He had brain surgery just before he was 1 to ease the pressure in his brain. This worked but unfortunately left him with epilepsy which has proven almost impossible to control.

He is the cheekiest little boy with the most contagious smile. He is 11 years old with the ability of a newborn baby but when you look in his eyes you know full well he understands you and everything going on around him. He will shout if you don't say hello when you enter the room and has a wicked sense of humour. Everyone that meets him falls in love with him instantly.
Patterns
1.
Cartoon spaceship from lq files
Stitcher: Jodie Balaam, Lawshall, England
Received


2.
Climbing Goat Designs Stargazing star
Stitcher: Eileen, Newcastle, UK
In Progress


3.
From LQ files Space Countdown pdf1 LQ charts
Stitcher: Lisa Beaton, Knaresborough, United Kingdom
In Progress


4.
Climbing Goat Design Saturn
Stitcher: Lorna Simpson, Southampton, UK
Received


5.
Planets with kawai style faces
Stitcher: Helen Cheape, Sunderland, UK
In Progress
a-shop-app-s2nmb0p2vknunkvkcu5qu0j1zmcyrwf6qmrttfr...


6.
Space Motifs
Stitcher: Nicola, St Albans, UK
Received


7.
Spaceship blasting off LQUK files
Stitcher: Tracy D, Bristol, UK
In Progress
https://lookaside.fbsbx.com/file/spaceship%20blast...


8.
Astronaut with Union Jack flag from LQ files
Stitcher: Sarah B, Essex, UK
Received


9.
Https://www.etsy.com/uk/listing/715531635/space-star-cross-stitch-pattern?ga_search_query=Space&ref=shop_items_search_53 Climbing goats space star astronaut version
Stitcher: Cairine, Grantown on Spey, UK
In Progress


10.
From Climbing Goat Designs Space Adventures
Stitcher: Linda Cropper, Atherstone, England
In Progress


11.
Saturn
Stitcher: Samantha , Bournemouth, England
In Progress
https://www.etsy.com/uk/listing/793857652/space-cr...


12.
Label
Stitcher: Sandra, Shefford, England
Received
Squares received
Card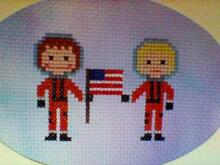 Stitched by: Diane Gant