Jessie T's quilt &nbsp (Quilt Completed)
Born:
2020
Illness:
Muenke syndrome (craniosynstosis)

Theme: Animals (particularly cats and dogs)

Quilt delivered: 6th Nov 2022
Thank you
The quilt has arrived safely and she loves it on her bed every night xx
Finished photos
Quilted by:
Leanda
Individual squares

Stitched by: Christine Mennie (+)
Submitted: Jun 2022


Stitched by: Diana Lettice (+)
Submitted: Jun 2022


Stitched by: Erin (+)
Submitted: Sep 2022


Stitched by: Helen (+)
Submitted: Aug 2022


Stitched by: Kay (+)
Submitted: May 2022


Stitched by: Kelli (+)
Submitted: Sep 2022


Stitched by: Leanda Vickers (+)
Submitted: Jun 2022


Stitched by: Maria (+)
Submitted: Jul 2022


Stitched by: Nicky (+)
Submitted: Aug 2022


Stitched by: Pippa (+)
Submitted: Sep 2021


Stitched by: Tracy D (+)
Submitted: May 2022
Card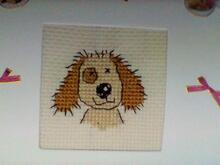 Stitched by: Jodie Balaam
Biography
Jessie's diagnosis of Muenke syndrome is from birth. She has the craniosynostosis (early fusion of the skull) part of this as well as digestive and feeding issues due to cow milk allergy. When Jessie was born she required additional neonatal care for additional oxygen and needed feeding support. Jessie has had cow milk allergy from birth and requires a prescribed formula milk as her main form of nutrition and will require this until early teen years.
When Jessie was 6 months of age weaning became very difficult as When Jessie would intake any form of solid she would vomit due to her stomach not being able to filter the solid through, this is still an issue at 24 months old.
At 14 months old Jessie was tried with nasogastric tube feeding to try and build her up for her first operation but the NG tube feeding failed due to Jessie having a collapsed nose bridge due to craniosynostosis.

In June 2021 Jessie had her first operation to start correcting her early fusion of the skull. She had an 8 hour operation at Birmingham Children's Hospital to have distractors placed on her skull and part of her skull cut. This was a 6 day hospital stay as I (her mum) had to be trained how to care for her and the distractors. In July she had another surgery for a rehash out and restitution up as she was rejecting the distractor metal but we needed to bear with them as they needed to stay a little longer to do their job.

In September 2021 she went back for another operation which took 5 hours to have the distractors taken out as they had done the best they could.
Between September 2021 and present she has had a barium swallow meal and an EEG to try and get to the bottom of the feeding/digestive issues and an official diagnosis.

For Jessie's hearing loss she failed her hearing tests at birth, then failed a sedated hearing test in the early weeks of life. Jessie has since had numerous hearing tests and all show she has approximately 15% hearing on the right hand side and nothing on the left. She now wears a BAHA hearing aid on a soft band and will be requiring 2 hearing aids in the near future.

Jessie is still under the cranio team and will be requiring another operation to reconstruct the front of her skull.