Owain C's quilt &nbsp (Quilt Completed)
Born:
2004
Illness:
Elhers danlos syndrome

Theme: Mixture

Quilt delivered: 26th Jan 2023
Thank you
Could you pass on my thanks to those who made the quilts, the kids loved them and have them on their beds.
Finished photos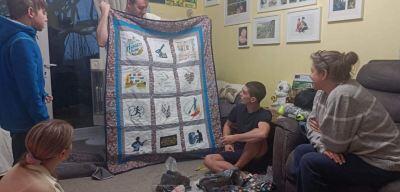 Quilted by:
Sandra (Beds)
Individual squares
Card

Stitched by: Anne Berg Gjolberg
Biography
Owain was diagnosed with Ehlers Danlos Syndrome in 2019 at the age of 15 but struggled with a lot of pain for years before this. 

Owains EDS manifests itself in numerous ways and we first realised there was something wrong when he was a baby and struggled to tolerate any form of dairy food, and from the age of 5 when he complained of unexplained pain. Years of trial and testing eventually led to a diagnosis of EDS following his father and younger sister being diagnosed with the same condition.

The main symptoms Owain experiences are globalised pain and digestive issues.

To help manage his symptoms Owain keeps himself tremendously fit and loves to run, regularly coming first in his local parkrun. His favourite activity is running in the Lake District mountains followed by a dip in a lake to cool off!