Imogen M's quilt &nbsp (Quilt Completed)
Born:
2017
Illness:
Congenital melanocytic naevi

Theme: Dinosaurs

Quilt delivered: 8th May 2023
Thank you
She won't part with it she absolutely loves it. I cannot thank you enough for all the hard work love quilts have put into making it.
Finished photos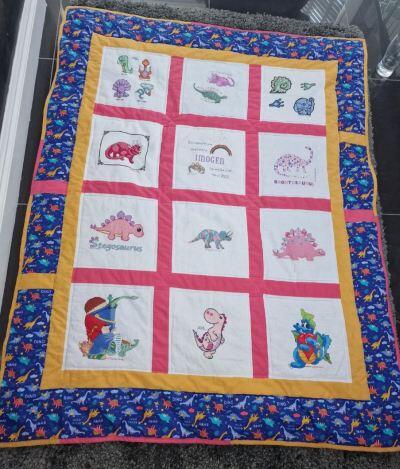 Quilted by:
Leanda
Individual squares
Card

Stitched by: Deborah Desmond Clarke
Biography
Imogen has struggled with congenital melanocytic naevi since birth and has been under GOSH and Alder Hey. She has undergone a number of sugeries and has struggled with her moles as they are across her body. She has 10 altogether, the biggest one being on her back at 73cm. The rest are across her arms and legs.

She struggles as children sometimes don't understand what they are due to their age and it's hard for her to explain being so young. I have to make people understand they are very delicate and cannot be touched. She suffers from outbreaks on her legs which lead to struggles walking especially through the winters.

She was born with hearing problems and goes to a mainstream school but struggles to make friends due to the lack of speech and understanding and her poor hearing. She is able to lip read.

She has a little sister who is brilliant with her and helps her to overcome her fears inside and outside school.