Aimee H's quilt &nbsp (Quilt Completed)
Born:
2011
Illness:
Quadriplegic spastic dystonia cerebral palsy

Theme: Sunflowers

Quilt delivered: 3rd Jun 2023
Thank you
Yesterday we received our quilt and it is simply beautiful!

We picked the theme sunflowers as we love the quote 'Even on the darkest days, I will stand tall and find the sunlight' and that describes Aimee well. All she goes through, she still manages to shine bright just like a sunflower!

This quilt will certainly help make grey days be bright.

Thank you to all the cross stitchers worldwide who made the squares to make this quilt. It's blown us away and Aimee can not stop looking at the designs.
Finished photos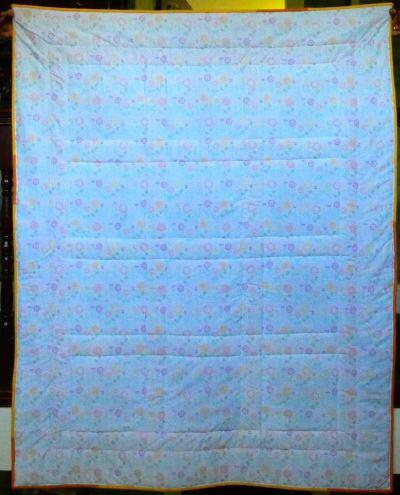 Quilted by:
Leanda
Individual squares
Card

Stitched by: Leanda
Biography
Aimee was 5 days old when she was taken to hospital thinking that she was simply dehydrated. Once at the hospital she took a turn for the worse. Aimee became limp and lifeless and needed what was called a lumbar puncture.

When that was done our world was turned upside down. They told me that the next 24 hours were going to be critical and that she had a 5% chance of survival as she had group b strep meningitis.
Aimee fought for her life and did so amazingly. Unfortunately the meningitis had done its damage.
The damage to Aimee's brain has left her severely disabled. She is wheelchair bound and depends on me 24/7 to fulfil her daily needs. She is unable to walk or talk and is tube fed.

Aimee is a very happy girl and doesn't let anything get to her despite her disability.