Jake B's quilt &nbsp (Quilt Completed)
Born:
2016
Illness:
Genetic disorder SEPSECs causing PCH2D. Degenerative neurological disorder.

Theme: Dragonflies

Quilt delivered: 2nd Jul 2023
Thank you
I have just come home to swap for the night with my husband as Jake is still in hospital and my goodness I'm in tears (happy tears) I've just opened Jake's quilt. It is more beautiful than I even imagined! You have no idea what this means to us. Thank you thank you thank you
Finished photos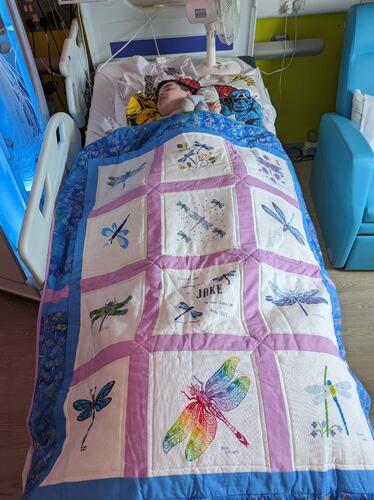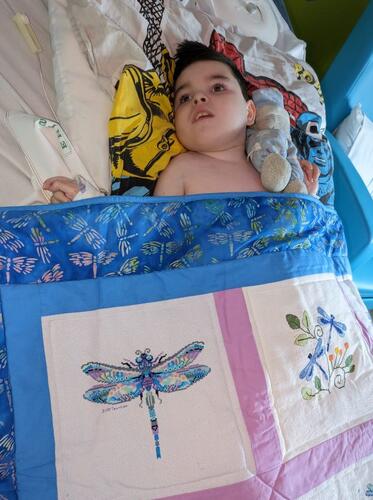 Quilted by:
Heather
Individual squares
Card

Stitched by: Gemma Boreham
Biography
Jake is a 6 year old boy. We noticed at around 6 weeks old something was not quite right. It started off with visual issues. We learnt at 8 months old after lots of tests that what we were looking at was neurological. After a second brain MRI at 3 years old, which showed parts of his brain had disappeared and linking these results with a genetics team we were able to find his genetic mutation within the SEPSECs gene. It is extremely rare. It is degenerative so his condition causes him to lose motor function. He lost the ability to eat orally. He can no longer do anything for himself.


But the one thing that remains strong are his smiles.

Anyone who is lucky enough to meet him, feels his happiness radiate. He does not let the struggles and declines that come with his disorder stop him from enjoying life. His life will be small but it will be big in Love. He has a sister who is called Aneya who is 9 and she is his best friend.