Lucas R's quilt (Quilt Closed)
Born:
2014
Illness:
Kabuki Syndrome

Theme: Mr Tumble

Date opened: 15th Feb 2023
Date closed: 16th Feb 2023
Deadline: 26th Jun 2023


Theme details
Mr Tumble - Legal patterns please (from LQ Files)
Child Interests
Loves Mr Tumble, Justin's House, Rugrats.
Bright multi-colours.


Biography
Lucas is 8 years old. He has Kabuki syndrome which is a rare genetic condition presenting with a varying degree of challenges and health conditions.

He has hearing impairment, developmental delay, speech delay, short stature, sub-mucous cleft, hypotonia and learning disability.
Patterns
1.
Stitcher: Jodie Balaam, Lawshall, England
Received


2.
Stitcher: Helen, Swindon, UK
Received


3.
Stitcher: Kaz Bowen, Wakefield, UK
Received


4.
Mr Tumble Shine Song from LQ files
Stitcher: Sue, Cambridge, UK
Received


5.
LQ files Mr Tumble bow tie
Stitcher: Janet T, South Wales, UK
Received


6.
From LQ files Mr Tumble's Waistcoats and shirts
Stitcher: Lorna Simpson, Southampton, UK
Received


7.
LQ files Mr Tumbles Spotty Bag
Stitcher: Val Gilbert, Coningsby , UK
Received


8.
Mr Tumble star badge from LQ files
Stitcher: Pru, Les Adjots, France
Received


9.
LQ files Mr Tumble thumbs up
Stitcher: Jenny, Rushden, UK
In Progress


10.
Chef Tumble
Stitcher: Sylvia, Clacton, England
In Progress


11.
LQ files Lord Tumble with star
Stitcher: Nic C, Lincoln, UK
In Progress


12.
Label
Stitcher: Emma Robson, Doncaster, England
In Progress
Squares received

Stitched by: Jodie Balaam
Submitted: Jul 2021


Stitched by: Helen
Submitted: Nov 2021


Stitched by: Kaz Bowen
Submitted: Jan 2022


Stitched by: Sue
Submitted: Mar 2023


Stitched by: Janet T
Submitted: Mar 2023


Stitched by: Lorna Simpson
Submitted: Mar 2023


Stitched by: Val Gilbert
Submitted: Feb 2023


Stitched by: Pru
Submitted: Mar 2023
Card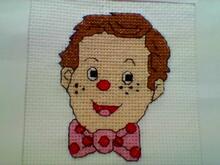 Stitched by: Linda Cropper