Zara G's quilt &nbsp (Quilt Completed)
Born:
2002
Illness:
Quadriplegic athetoid cerebral palsy

Theme: Fairies and Angels

Quilt delivered: 17th Feb 2014
Thank you
Zara is absolutely delighted with her amazing quilt, it is truly beautiful. Thank you all for such an amazing gift. Xxx
Finished photos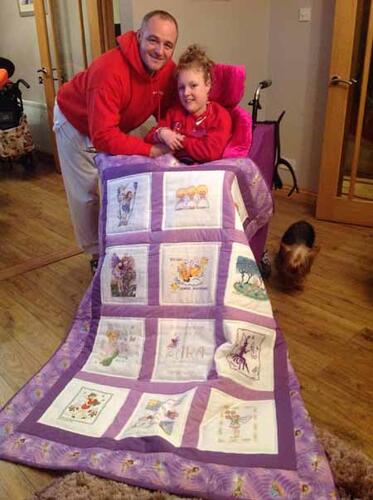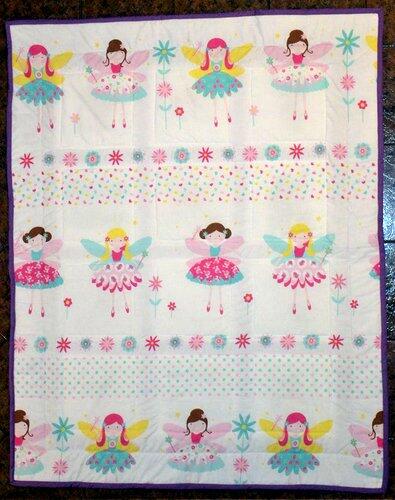 Quilted by:
Leanda
Individual squares
Fabric
Card

Stitched by: Elaine
Biography
Zara is 1 of 2 surviving triplets, my triplets were born 13 weeks premature and my son Travis survived for a precious 7 weeks.

Zara has had a very difficult journey, at 1 week old Zara contracted septicaemia and we were told she only had hours to live. This is only one of the many times we were to be told this, however our precious princess is still with us. Her rocky journey continued and required laser treatment on both eyes and to be intubated many times to keep her alive.

Zara was allowed home 6 months after her birth, however this was short lived and for the next 3 years we spent as much time in hospital as we did at home. The major stays were for croup Zara was in ICU for many weeks and again intubated to save her life, she also arrested after aspirating and had to be resuscitated and yet again our miracle baby pulled through.

Zara was 7 years old before we actually spent a Christmas at home and not in hospital. Zara has had hip reconstruction, a fundoplication and gastrostemy surgery, she has also had her tonsils and adenoids removed so has had been in surgery more times than any child should be. Zara gets Botox injection 4 monthly to help relax her very tight muscles.