Callum W's quilt &nbsp (Quilt Completed)
Born:
2001
Illness:
Prader Willi Syndrome

Theme: Football

Quilt delivered: 19th Sep 2018
Thank you
Thank you so much for Callum's quilt. He absolutely loves it. It's is amazing. Thank you thank you so much
Finished photos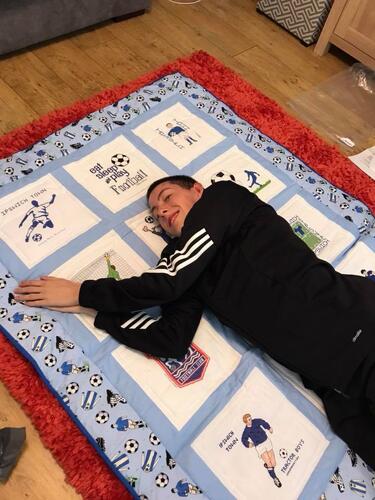 Quilted by:
Carol
Individual squares

Stitched by: Debbie Clarke (+)
Submitted: Jul 2018


Stitched by: Diana (+)
Submitted: May 2018


Stitched by: Fiona (+)
Submitted: Jul 2018


Stitched by: Julie Edgcumbe (+)
Submitted: May 2018


Stitched by: Laura (+)
Submitted: Jul 2018


Stitched by: Leanda Vickers (+)
Submitted: Jun 2018


Stitched by: Linda Cropper (+)
Submitted: Jun 2018


Stitched by: Loraine (+)
Submitted: Jun 2018


Stitched by: Sandra (+)
Submitted: May 2018
Card

Stitched by: Linda Cropper
Biography
Callum was born at 36 weeks by emergency caesarean and it was apparent at birth he was very poorly. Callum was ventilated as he was critical but after a few days he was able to come of the ventilator. He was extremely floppy, could not suck or cry and just slept. At 6 weeks he was diagnosed with Prader-Willi Syndrome. PWS is very rare, 1 in 20,000 births. It is a life threatening and life limiting syndrome. Life for Callum has been very challenging living with PWS. He went to a special school and is now at a specialist College.
Up until last year Callum's health had been very good. At the beginning of 2017 Callum was diagnosed with kyphosis/scoliosis with a 90 degree curve, it is very high up at the top of his spine and is too high risk for surgery. So, at this point we don't know what, if anything can be done to help him.
In February Callum developed a headache which wouldn't go and after 2 months an MRI showed a cyst on his brain. After being referred to a specialist hospital we were told it wasn't causing the headaches. It was a very worrying time and after 4 months the headache went, so at this point we didn't really have any idea why he had the headache. Then, in August, Callum had a sleep study which he has yearly because he is on growth hormone. Two weeks after the study was done we got a phone call to say that he needed to go back in that day for a sleep study with oxygen as Callum's sats were dropping dangerously low while asleep. We came home the following day with oxygen for Callum to use at home and an appointment to see a sleep specialist. It was so difficult with the oxygen, Callum hated it and fought it every step of the way. At the appointment with the sleep specialist we were told Callum's lungs were only working 60 percent and he would need a non-invasive ventilation machine at night to support his breathing. He was also suffering with central sleep apnoea, pauses in his breathing, and would need a heart scan to make sure no damage had been done to his heart while he was hypoxic when asleep. Getting Callum to wear and accept the mask at night has been so difficult. One night he cried so much and said mum I would rather have a stroke and die. It was heartbreaking I felt like I was putting my son in a torture chamber. But we got there in the end, he doesn't like it but will wear it. He has to have another sleep study in May. Just before Christmas he had his heart scan and fortunately no damage had been done to his heart, but they found another problem with his heart not related to the breathing or PWS. We are waiting to be seen by The Evalina Hospital.
All of this on top of Prader Willi syndrome has been very difficult but all in all Callum has taken it in his stride and just gets on with life. He is such a happy kind loving boy.
This could not come at a better time I told him tonight and he is very excited. Callum had a very nasty fall last week and spent two days at the hospital with 4 xrays on his foot/ankle. Fortunately no surgery was needed but there is a lot of soft tissue damage and Callum now has to wear a boot to support his foot/ankle for the next four weeks.