Jack R's quilt &nbsp (Quilt Completed)
Born:
2008
Illness:
Severe Quadriplegic Cerebral Palsy, including no swallow reflex and tube fed.

Theme: Cartoon characters

Quilt delivered: 18th Jul 2012
Thank you
With extra special thanks from Jack to all those involved in making this fantastic quilt, think you can tell by the face that he LOVES it, as do we all xxx
Finished photos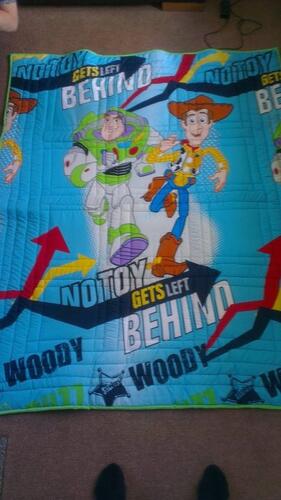 Quilted by:
Margaret
Individual squares

Stitched by: Bridget (+)
Submitted: Apr 2012


Stitched by: Charity L. (+)
Submitted: May 2012


Stitched by: Ginny Pledger (+)
Submitted: Feb 2012


Stitched by: Hannah (+)
Submitted: Mar 2012


Stitched by: Jenny White (+)
Submitted: Sep 2011


Stitched by: Kay (+)
Submitted: Feb 2012


Stitched by: Laura (+)
Submitted: Jun 2012


Stitched by: Nicola (+)
Submitted: Feb 2012


Stitched by: Philippa (+)
Submitted: Feb 2012


Stitched by: Sadie Wishart (+)
Submitted: Feb 2012
Fabric
Biography
Jack is the younger of a set of twins. He was starved of oxygen following the delivery of his twin sister and resultantly suffered severe brain damage. His disability was evident almost immediately as he was unable to swallow and even manage his own secretions and was given the diagnosis of Cerebral Palsy just days later. He required weeks of ventilation following birth and was hospitalised for 10 weeks.

Jack was given a Gastrostomy and fundoplication operation at 15weeks of age, weighing only 3kg, to assit feeding and reduce reflux, as he was failing to thrive. Since birth he has required 24/7 supervision, to prevent aspiration and choking due to inability to manage secretions.

Jack's first winter saw recurrent hospital admissions with various viral infections and pnuemonia, one requiring intensive care.

Over the last 2 years Jack has had various operations, including removal or tonsils and adenoids to increase airway space, removal of salivary glands to reduce secretions and insertion of a permanent Jejunostomy to overcome significant abdominal problems through feeding into the stomach.

Jack's original prognoisis was bleak; "won't walk, talk, sit, stand or crawl". But despite his continued inability to deal with secretions he has overcome this original outlook. He learned to sit up at 2 and a half, learned to crawl at 3 and over the last year his communication skills and understanding has come on leaps and bounds. He can sign whole nursery rhymes, tell us which of his favourite tv programs he wants to watch, tell us where he wants to go, count and is in training to operate a high tech communication aid.

Jack is a determined Little Man with such a desire to learn and advance, he has a terrific sense of humour and despite his continued requirement for constant supervision, bring endless rewards to our family.

Our aim is for Jack to attend mainstream school (albeit part time) with his twin sister next September.