Lexi T's quilt &nbsp (Quilt currently being assembled)
Born:
2004
Illness:
Schuurs-Hoeijmakers syndrome (PACS1)

Theme: Minnie Mouse

Quilt currently being assembled
Theme details
Minnie Mouse - A flamingo on the label if possible
Biography
Lexi was born by emergency c-section after a routine appointment discovered she had a rapidly reduced heart rate. We were told how incredibly lucky we were to have been there at that time as it could have been a different ending. She was always a very unsettled baby, didn't like to be held or touched, she seemed to just cry for the 1st year of her life. We met many different Drs who could not find anything wrong with her. For a long time, we were told she had GDD.
Lexi struggled with a lot of everyday life, she didn't cope very well when starting in nursery. It gradually became clear that as long as her everyday routine was the same we managed fine, so our whole life then became a giant calendar with everything noted down in the order it would be happening.
When Lexi was almost 12 we finally recieved the call we had been waiting for. The DDD Study had found the answer to all of Lexi's difficulties! We were so excited to finally have some answers. Only when we met the geneticist we really didn't have answers, we just had a name.
Lexi shares her syndrome with only 87 other children IN THE WORLD. We are 1 of only 12 in the UK. So, instead of answers we got a "family" with whom we can share our successes & concerns. We can see how the older children are developing & offer encouragement & advice to the parents of younger children. There is very little information on how Lexi will be as an adult, no life expectancy can be given as we have no comparison. So we live very much for now! Every achievement, every new goal we reach is celebrated & shared with our new PACS1 family.
Lexi is now almost 14 & is very much still reliant on her routine boards. She is the happiest, grumpiest, smiliest teenager I know. She amazes us everyday with her resilience & attitude. Although she is still very much dependent on other people for help with personal care & danger awareness etc. she just smiles & carries on! She loves her baby sister Aubrie. She likes to go out walking in the nature reserves with our family. She LOVES school!
She really is my little superstar!!
Patterns
1.
LQ files Minnie Mouse in a flower by Abigail
Stitcher: Val Gilbert, Coningsby , UK
Received


2.
Disney a punto Croce High kicking keep fit Minnie, possibly without star
Stitcher: Sandra, Shefford, England
Received


3.
Mickey Unlimited - Ultimate Cross Stitch Collection Minnie with yellow pocket book and pink dress - will not include Mickey - pattern is called Photo Shoot
Stitcher: Jeanne, Texas, USA
Received
na


4.
Princess Minnie from LQ files
Stitcher: Jan , Lincs, UK
Received


5.
Disney punto croce magazine number 93 Minnie Mouse sitting on the floor wearing a pink dress.
Stitcher: Karen Hockin, Southampton, England
Received


6.
Minnie mouse as a fairy from files
Stitcher: Gail, Lochgelly, Scotland
Received


7.
Minnie dressed as a cowgirl from Disney Point de Croix facile 58
Stitcher: Michele, Derby, Connecticut , USA
Received


8.
Shortened Minnie mouse sampler Mickey collection, Disney home ultimate collection leisure arts. p36
Stitcher: Roisin, Amersham, England
Received


9.
Disney a punto Croce no 84 Minnie Mouse wearing a red and white polka dot dress jumping in the air
Stitcher: Paula Dewar, Glasgow, Scotland
Received


10.
Minnie Mouse in her pyjamas carrying a teddy bear
Stitcher: Jennifer Urquhart, Glasgow, Scotland
Received


11.
From LQ files Minnie Dress
Stitcher: Julie, Anglesey, Wales
Received


12.
Label
Stitcher: Louise B, Surrey, UK
Received
Squares received

Stitched by: Louise B
Submitted: Apr 2019


Stitched by: Val Gilbert
Submitted: Jan 2019


Stitched by: Sandra
Submitted: Jan 2019


Stitched by: Jeanne
Submitted: Feb 2019


Stitched by: Jan
Submitted: Jan 2019


Stitched by: Karen Hockin
Submitted: Feb 2019


Stitched by: Gail
Submitted: Feb 2019


Stitched by: Michele
Submitted: Feb 2019


Stitched by: Roisin
Submitted: Feb 2019


Stitched by: Paula Dewar
Submitted: Feb 2019


Stitched by: Jennifer Urquhart
Submitted: Feb 2019


Stitched by: Julie
Submitted: Jan 2019
Card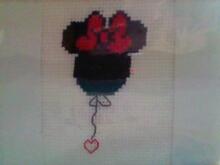 Stitched by: Elaine Ainsworth