Zander S's quilt &nbsp (Quilt Completed)
Born:
2010
Illness:
Tetraolgy of fallots, severe tricuspid valve regurgitation, pacemaker, Autism spectrum disorder

Theme: Superheroes

Quilt delivered: 27th Apr 2019
Thank you
Wow just wow. Thank you so much. It arrived today Zander loves it. Its amazing so much time and work has gone into this. You are all amazing. I will get more photos later but Zander has put on his bed and is wrapped up now upstairs
Finished photos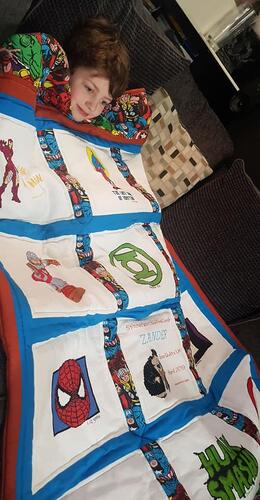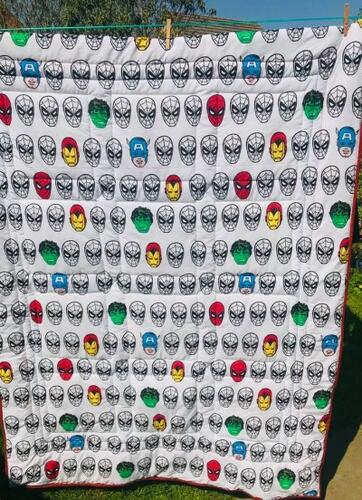 Quilted by:
Sandra (Beds)
Individual squares
Card

Stitched by: Kaz Bowen
Biography
Zander was born with TOF. He had a rocky 6 months, tet spells, blue lighted to hospital and started on beta blockers at 6 months old. He had cath surgery Feb 2011 and emergency open heart surgery June 2011. He had a complete heart block and a second surgery with a pacemaker fitted 7 days post ohs.
We found out at 14 months old he had severe tricuspid valve regurgitation. He's been on diuretics from 14 months old to present. Zander started surgery investigations again in August 2018 and had a stent surgery Oct 2018. He has most recently had a pacemaker replacement March 2019 with some complications. He is home now. He struggled with eating from 6 months old, was diagnosed with failure to thrive and narrowly avoided a peg. He was diagnosed autistic Feb 2014, he is amazing.