Dylan J's quilt (Quilt Closed)
Born:
2009
Illness:
Grin1 variant - rare genetic disorder

Theme: Space

Date opened: 8th Jun 2019
Date closed: 1st Jul 2019
Deadline: 26th Oct 2019


Theme details
Space - Please include stars
Child Interests
Thomas, vehicles, bears, animals (faves are elephants, dogs and horses). Blue or any bold colour.
Biography
We noticed delays in Dylan hitting milestones when he was a baby. Dylan had difficulties in feeding and weening due to low muscle tone. He sat up after he turned one and started walking as he turned 3. His speech continues to develop with a combination of verbal and signs to communicate. Dylan loves to communicate but gets very frustrated when he's not understood.
Dylan is a very smiley handsome young man who received his diagnosis August 2018 through the Deciphering Developmental Delays study. Following his diagnosis we realised he had vision difficulties so that his brain does not always interpret correctly what his eyes see. Having this secondary diagnosis allows us greater understanding of Dylan and how best to support him. Dylan has challenging behaviour primarily because he cannot communicate with the world as the rest of us do. However, he is determined, charming and full of giggles.
Patterns
1.
Space rocket ship by Deborah Clarke from files will add some stars to the pattern around the rocket ship
Stitcher: Gail, Lochgelly, Scotland
In Progress


2.
Climbing Goats Design A space adventure Moon, astronaut, stars, rocket, planet
Stitcher: Nicola, St Albans, UK
Received


3.
Etsy/Threadsandthings Reach for the stars
Stitcher: Eileen, Newcastle, UK
Received


4.
Etsy Rocket leaving earth for mars and passing stars
Stitcher: Donna Sharpe, Chesterfield, UK
In Progress
https://www.etsy.com/uk/listing/667339589/racing-r...


5.
Cross stitcher November 2005 Space ships, space man and dog, flying saucers rocket.
Stitcher: Kay, Southminster, Essex, UK
In Progress


6.
In space
Stitcher: Jackie Billington, Birmingham , UK
Received
https://www.etsy.com/uk/listing/613844100/in-space...


7.
DMC free pattern Star Gazer
Stitcher: Jenny, Rushden, UK
Received


8.
LQ patter from files Rocket ship blasting off into space
Stitcher: Elaina, Sutton Coldfield, England
In Progress


9.
Spaceman from files by Deborah Clarke Spaceman floating in space
Stitcher: Linda Cropper, Atherstone, England
In Progress


10.
Space ..designed by Elsie Irwin age 7 from LQ files
Stitcher: Jo, York, UK
In Progress


11.
Climbing goat design from Etsy Patterned saturn
Stitcher: Ruth Horn, Co Durham, UK
Received


12.
Label
Stitcher: Rebecca, Kettering, Northants, UK
In Progress
Squares received
Card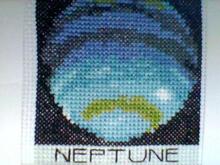 Stitched by: Julie Day