Emre G's quilt &nbsp (Quilt Completed)
Born:
2006
Illness:
Cerabal palsey, Dyspraxia, spd, autistic traits

Theme: Harry Potter

Quilt delivered: 5th Jan 2020
Thank you
Today Emre's parcel arrived, its so beautiful had us both in tears with all the love that has gone into each piece, we were both shedding a few tears. Thank you to each and every one of you for making this quilt so special, I have one very happy boy that can't wait to get in bed tonight with his new quilt. Thank you love from Emre and myself xxx
Finished photos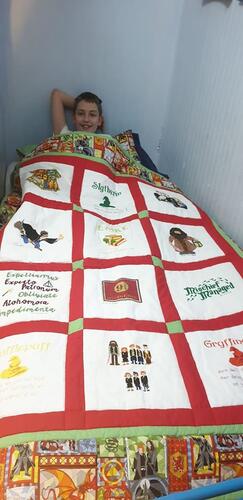 Quilted by:
Sarah
Individual squares
Card

Stitched by: Ruth Horn
Biography
Emre was born at 30 weeks, weighing 21b and remained in hospital for 2 months until he had gained weight. He was eventually discharged at 41b 9oz but we had a lot of issues with him constantly choking on food and he was admitted to hospital many time.
Emre doesn't sleep very well and struggles with severe leg cramps at night. He has just finished his first year in high school and has had a great year and won a few awards which me and his Dad are very proud of. Whatever life throws at Emre he deals with it and is our brave star when he goes into hospital for treatment to his legs.
We are so grateful to you for making Emre a quilt.