Emilio B's quilt &nbsp (Quilt Completed)
Born:
2020
Illness:
Hirschprungs disease, perforated bowel, hole in the heart, respiratory issues along with brain issues which are currently being investigated.

Theme: Giraffes

Quilt delivered: 19th Jun 2022
Thank you
He adores it and all his "raffs". Thank you so much for making this for my little miracle boy xxxx
Finished photos
Quilted by:
Sandra (Beds)
Individual squares
Card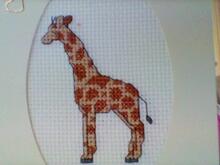 Stitched by: Nicola Bailey
Biography
My IVF baby boy was born at 34 weeks via emergency c-section due to illness of me. His bowel perforated at 8 hours old and he was blue lighted to Manchester St Mary's hospital. He had emergency surgery and had a stoma formed. He then had a further 4 surgeries on his bowel. His heart condition causes apnoea along with other issues so he requires 24 hour care.

He is constantly in hospital since birth, there's been many more hurdles along the way with other illnesses which I can't possibly write as there's too much. He's the most beautiful, brave little boy with the world on his shoulders. We have to do wash outs 4x daily, medications daily and measure his input and output. He has to be monitored 24/7 during the night too, we are terrified constantly as his health is always a battle.