Harvey K's quilt &nbsp (Quilt Completed)
Born:
2019
Illness:
Chronic kidney disease stage 5

Theme: Superheroes

Quilt delivered: 2nd Apr 2023
Thank you
Here are some pictures of the quilt.
He loved it! Thank you again soo much! X
Finished photos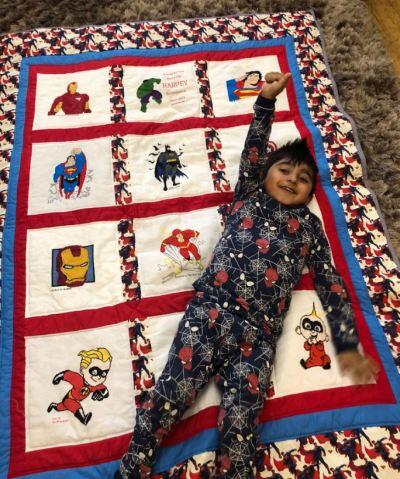 Quilted by:
Sandra (Beds)
Individual squares
Card

Stitched by: Nicola Bailey
Biography
Harvey was born with kidney failure and since birth has spent most of his time in hospital being treated for his kidney disease. Harvey has been on the transplant list for almost two years and whilst we continue to wait he attends hospital three times a week for dialysis.

Due to Harvey's kidney disease his lungs have also been affected and he is prone to chest infections. Harvey spent his first Christmas and birthday in intensive care because of this and has also had two further admissions in intensive care.