Jenson A's quilt &nbsp (Quilt Completed)
Born:
2017
Illness:
Chronic kidney disease

Theme: Dinosaurs

Quilt delivered: 1st Nov 2023
Thank you
Jenson received his special quilt today he was absolutely blown away with it
Thank you all so much you are all such incredible people
Finished photos
Quilted by:
Tracey E
Individual squares
Card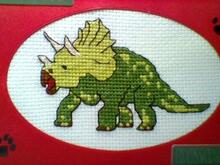 Stitched by: Marilyn Foyle
Biography
Jenson was born at 33 weeks gestation. We found out at his 20 week scan that his kidneys weren't developing. When he was born his kidney function was 50% meaning in the future he will need a kidney transplant.

Jenson has two feeding tubes through which he is fed 24 hours a day and carries a backpack with two feeding pumps and two bottles which contain water and his feed. He also has hypermobility and we've recently been told he has leaky heart valves.

Even though Jenson has many hospital appointments at different hospitals and also has a lot of hospital stays he takes it all in his stride and is still a cheeky little boy.