William W's quilt &nbsp (Quilt Completed)
Born:
2006
Illness:
Pallister Killian Syndrome

Theme: London Landmarks/Union Jacks

Quilt delivered: 15th Jul 2015
Thank you
Huge thanks to you all for making this masterpiece for William. Can't thank you enough for all the work that has gone into it. ?
Love it!
Finished photos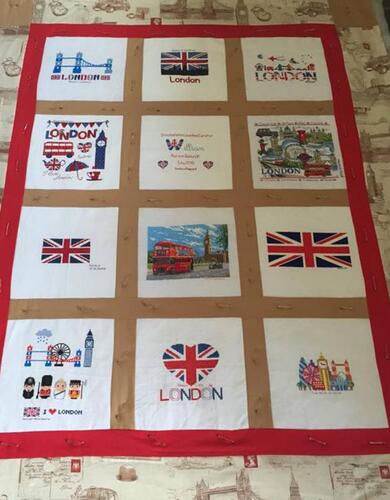 Quilted by:
Sandra (Beds)
Individual squares
Fabric
Card

Stitched by: Nicola Bailey
Biography
William was born on 15th Sept 2006, he had the initial diagnosis if dysmorphic features, hypotonia, submucosal cleft palate and was N.G fed due to a poor swallow. He spent his first 3 weeks in NNU, tests and investigations into his condition began.

During the early days test identified hearing and visual impairments, severe hypotonia, Laryngomalacia, undescended testicles, epilepsy and global development delay. Endless hospital reviews and therapies were part of everyday life.

William was finally diagnosed with pallister killian syndrome (PKS) aged 2 years 3 months. PKS is a rare chromosome disorder which results in an isochromosome (extra chromosome) of 12p. It was a relief to finally have a diagnosis.

William needs care 24/7, he endures so much daily yet he always has a smile to offer. He is a very happy, content little boy with a cheeky personality, we are very lucky to have him.

Thank you so much for the time and effort that has been put into the quilts. We are very grateful.