Holli-Mai's quilt &nbsp (Quilt Completed)
Born:
2006
Illness:
feotal Valproate syndrome

Theme: Disney Cars and Disney Princesses

Quilt delivered: 8th Oct 2016
Thank you
Thank you so much to everyone that made Holli-mai's quilt! She is over the moon and will treasure her quilt forever 😍💖
Finished photos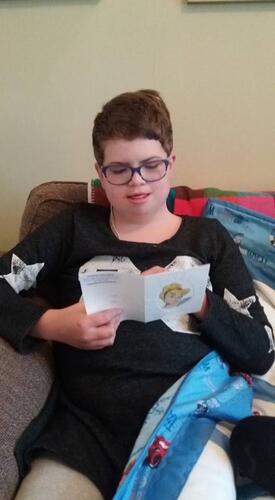 Quilted by:
Liz R
Individual squares
Fabric
Card

Stitched by: Sandra Wright
Biography
Holli-Mai is a beautiful, special little girl! She overcomes her difficulties everyday and always with a smile on her face.

She was diagnosed with Foetal valproate syndrome at birth, this was caused by her birth mother taking high doses of epilim (sodium valproare) throughout her pregnancy. Holli-Mai struggles with walking and uses a wheelchair to help her live life to the full. She had regular appointments with the hospital to keep everything in check and keep things going in the right direction. Holli-Mai amazes us all the time and never let's things stand in her way!! She makes us so proud and we know she will go far.