Caleb C's quilt &nbsp (Quilt Completed)
Born:
2013
Illness:
Cystic fibrosis

Theme: Diggers and Tractors

Quilt delivered: 2nd Feb 2017
Thank you
Caleb's quilt arrived this afternoon, he loves it and so do I!

Thanks again for all the hard work and time and effort everyone involved puts in to make these little kiddies smile. Please tell everyone who helped make the quilt so they can see how they made my little man smile.
Finished photos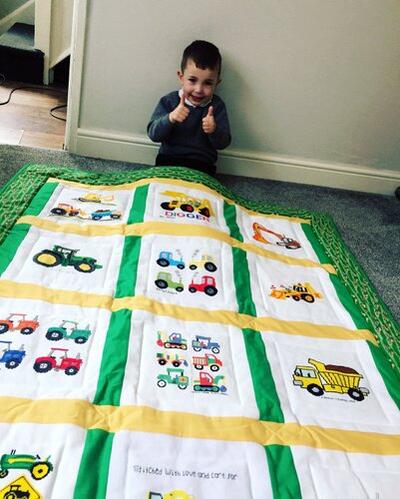 Quilted by:
Gaynor
Individual squares
Fabric
Card

Stitched by: Beth Filmer
Biography
Caleb suffers with Cystic Fibrosis along with his brother, Mason. He has to have daily physio, treatments including antibiotics and medication everytime he eats. Regardless he is still a happy positive little boy who lets nothing get in his way.
He has spent a lot of time in hospital on IV antibiotics and has to visit every month for follow ups, blood tests and cough swabs.