Violet G's quilt &nbsp (Quilt Completed)
Born:
2014
Illness:
Neurobfibromatosis

Theme: Unicorns, Rainbows and Butterflies

Quilt delivered: 21st Feb 2017
Thank you
a
Finished photos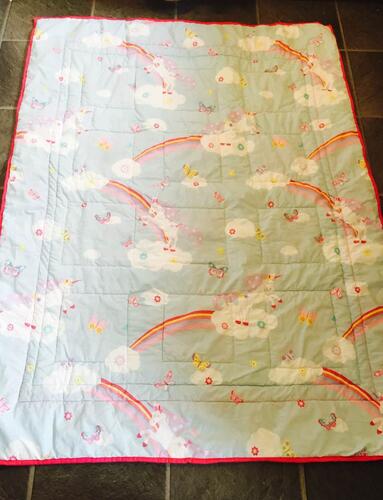 Quilted by:
Sandra (Beds)
Individual squares
Fabric
Card

Stitched by: Steph Rose
Biography
Violet was Diagnosed officially with NF when she was around 4-6 months old. Currently it isn't affecting her daily life but things can change as she gets older. She's recently undergone an MRI scan under sedation to determine the severity of a swelling on her face near her eye.

She's a funny, clever and cheeky little character who doesn't let her 3 big sisters boss her around.

We will be able to see how it affects her as she grows and starts school.