Abigail L's quilt (Quilt Closed)
Born:
June 2008
Illness:
Quad Cerebral Palsy

Theme: Mermaids

Date opened: 19th Aug 2017
Date closed: 29th Aug 2017
Deadline: 30th Nov 2017


Child Interests
Abigail loves her favourite band - 5 seconds of summer.
Her favourite colour is Pink.
Abigail loves unicorns and mermaids.
Abigail's favourite movie is Harry Potter series.
Biography
Abigail was born in 2008. After a traumatic birth, Abigail was transferred to the neo natal unit and was sedated for 3 weeks.

Abigail was having many seizures from birth. At 4 weeks old Abigail came home. We were told by the hospital that due to Abigail's birth she would most likely be disabled at 6 months of age Abigail had a MRI scan which shown severe brain damage to both sides of her brain.
Abigail was still having seizures daily.

Abigail is a very smiley young girl who has been through so much. She has a peg-j tube as she cannot eat, she has had 2 hip reconstruction surgeries and 2 years ago she started with dismotility of the bowel. This has been a daily battle for Abigail struggling with the pain yet she still manages to smile.


Patterns
1.
Durene Jones pattern from Etsy Mermaid
Stitcher: Elaine, Ammanford, Wales
In Progress


2.
Cross stitch by the sea by Ursula Michael Mermaid holding starfish with extra seaweed
Stitcher: Shirley, Ipswich, UK
Received


3.
Cross Stitcher 2015 Mermaid Magic
Stitcher: Leanda Vickers, Oldham , England
Received


4.
From my folders not sure what magazine it would have been in Cute mermaid sitting g on rock with turyle
Stitcher: Sally, Hull, UK
Received


5.
Soda stitch, Princess Mermaids, Sleeping Mermaid with purple hair and a blue caudal fin
Stitcher: Dagmar, Aalen, Germany
Received


6.
Ariel the mermaid
Stitcher: Fee, Fife, Scotland
Received


7.
Mermaid Enchantment, design by Lesley Teare. Mermaid in sea surrounded by fish, shells & seahorses
Stitcher: Marilyn, Birmingham, UK
Received


8.
'Little Mermaid' by Lucie Heaton Cross Stitch Crazy March 2017/issue 226 A mermaid
Stitcher: Jennifer Urquhart, Glasgow, Scotland
In Progress


9.
The world of cross stitching magazine Mermaid sitting on the sand with a shell type boxer
Stitcher: Paula Dewar, Glasgow, Scotland
Received


10.
Cross stitch crazy Crazy for mermaids
Stitcher: Audrey, Fife, Scotland
Received


11.
Durene Jones mermaid (different one to the above one)
Stitcher: Shirley, Worthing, Sussex, England
Received


12.
Label
Stitcher: Jill Smith, Taunton, England
Received
Squares received

Stitched by: Jill Smith
Submitted: Oct 2017


Stitched by: Shirley
Submitted: Nov 2017


Stitched by: Leanda Vickers
Submitted: Sep 2017


Stitched by: Sally
Submitted: Nov 2017


Stitched by: Dagmar
Submitted: Sep 2017


Stitched by: Fee
Submitted: Sep 2017


Stitched by: Marilyn
Submitted: Nov 2017


Stitched by: Paula Dewar
Submitted: Nov 2017


Stitched by: Audrey
Submitted: Oct 2017


Stitched by: Shirley
Submitted: Nov 2017
Fabric
Card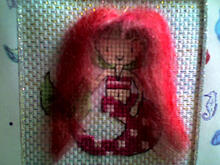 Stitched by: Heather Jepson