Olivia-Grace's quilt &nbsp (Quilt Completed)
Born:
2015
Illness:
Cystic fibrosis

Theme: Female Disney Characters

Quilt delivered: 14th Jul 2018
Thank you
Thank you so much. Olivia-Grace is unbelievably happy with it! I'm so in love with it!!! Thank you Thank you Thank you
Finished photos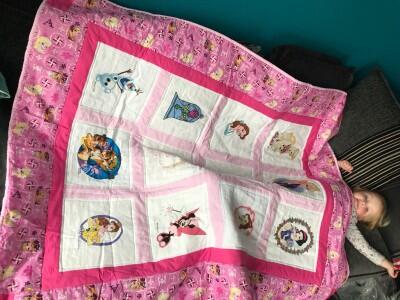 Quilted by:
Tracey E
Individual squares
Card

Stitched by: Hannah Garner
Biography
Olivia-Grace was diagnosed the day after my first birthday as a mum. Before diagnosis I knew something was wrong, her nappies were not normal new born nappies. Off colour, water like, as though her milk was going straight through her - which it was before she had the medication to help her digest her milk properly.

Diagnosis day is every parents worst nightmare! We struggled with her taking medication, she would spit them out no matter what tricks we tried. She has been on a nebuliser for over a year now which is twice a day and physio twice a day which becomes half an hour of screaming and kicking! With even more medication to take - 24 in total for an overall the day.

She's a stubborn strong willed happy care free little girl, who makes me proud for everything she goes through. I still struggle going out when I have people stare and some even question as to why I giving my little girl medication when she eats and drinks. Just to help her digest the fat in her food to help her put weight on.