Niva P's quilt &nbsp (Quilt Completed)
Born:
2014
Illness:
Dravet syndrome

Theme: Animals

Quilt delivered: 2nd Jun 2019
Thank you
It's so lovely, thank you! Niva loves it!
Finished photos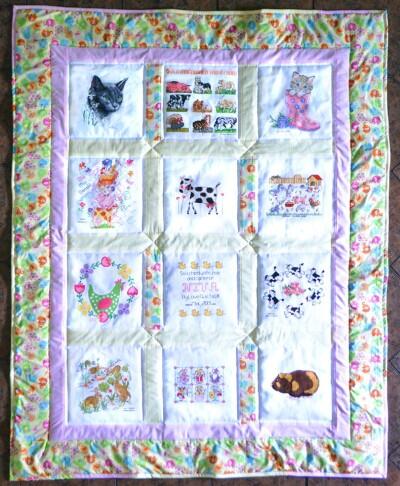 Quilted by:
Leanda
Individual squares
Card

Stitched by: Leanda Vickers
Biography
Our beautiful daughter Niva was born in March 2014. Our world was complete, she was so perfect. Her big brother was so proud of her. She was a fun loving baby and we were all so pleased with her. She was such a good baby, always smiling, meeting all her milestones and doing so well. It all changed when she was days away from being 6 months old.
We were at home and I noticed her leg jerk. I had no idea what was happening I just thought she pulled a muscle. We went to the doctors and from there it was straight to A&E. They thought it may have been a febrile seizure and sent us home. A week later the same thing happened, the left side of her body was twitching. From then on it was countless hospital trips and overnight stays. We were so scared at what Niva might have. Testing began and in February of 2015 Niva was diagnosed with Dravet Syndrome. Our world was turned upside down. All our hopes and dreams of the perfect family were broken.
We have spent so many days in hospital and have had some really dark days. We nearly lost her when she was 2 years old, she spent her 2nd birthday in ICU where she was fighting sepsis. After 9 horrible days she pulled through and we were so happy to take our little girl back home. There were many more hospital trips after this but she has continued to fight through with a smile on her face. Our little girl is truly a soldier.
Despite the daily challenges and drawbacks Niva and us as a family face, she has taught us life is so precious and we must count each day as a blessed day.