Nessa J's quilt &nbsp (Quilt Completed)
Born:
2010
Illness:
Noonans Syndrome (with variation )

Theme: Biscuits

Quilt delivered: 12th Dec 2021
Thank you
Thank you, thank you, thank you everyone who contributed for Nessas quilt. Its beautiful. We even talked about where they came from! She absolutely loves it and asked if she could keep it forever. She was so happy when I said yes, I told her it has her name on it and that means it belongs to her. Also thank you for the extra gift! She was so excited that it was a custard cream, you've all made a little girl very happy. There are lots of hospital appointments coming over the next year so it will get lots of use.
Finished photos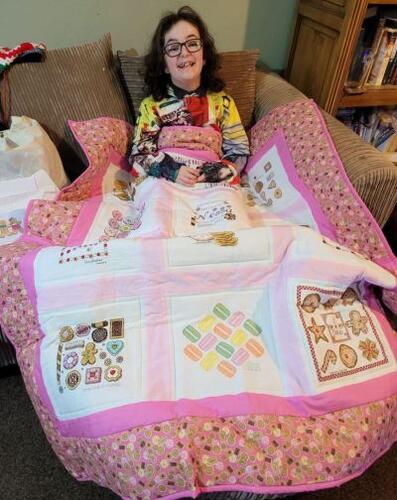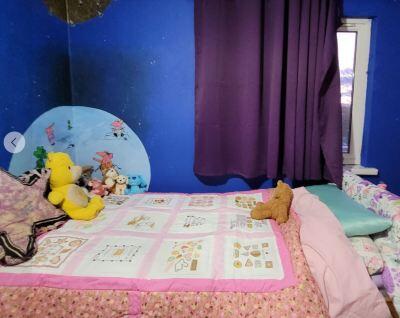 Quilted by:
Jill
Individual squares
Card

Stitched by: Alison Lawton
Biography
Nessa was born two days after being in a car accident, 3 weeks early and very small. There was initially no concern and there had been no concern throughout the pregnancy. She had difficulty feeding and started missing her milestones.
Nessa struggled to put weight on and didn't sit up independently until 19 months. We started learning Makaton at 12 months old which we used until she started speaking words at 4 years old. Nessa had physiotherapy on her legs until she started walking at 4 years, although still wears smafos and afos at age 10.5 years and can't walk very far so needs a wheelchair when we leave the house.
Although we have had many challenges she is a wonderful child, tries so hard to be helpful and has a great sense of humour.