D's quilt &nbsp (Quilt Completed)
Born:
2009
Illness:
Functional Neurological Impairment/Disorder

Theme: Sloths

Quilt delivered: 14th Jan 2022
Thank you
Thank you so much for my daughters quilt, it is absolutely amazing. My daughter would like to say a huge thank you to everyone who has stitched a square and to the quilter who has made up the quilt. Everyone is so talented
Finished photos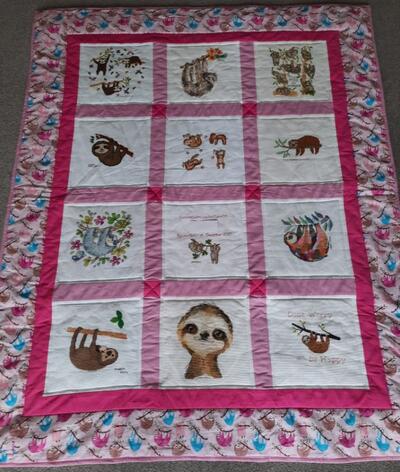 Quilted by:
Heather
Individual squares
Card

Stitched by: Gemma Boreham
Biography
D spent a couple of weeks in the neonatal unit after she was born. She has had a couple of operations over the years. At the beginning of May she started walking into doors and walls just randomly, then she started walking with a wobbly gait and is very unbalanced when walking. She was diagnosed as having neurological functional impairment/disorder.

D has been so brave and has kept a smile on her face,throughout all the difficulties and hospital visits she is now facing.