Matthew B's quilt &nbsp (Quilt Completed)
Born:
2017
Illness:
Duchenne Muscular Dystrophy

Theme: Sharks

Quilt delivered: 2nd Sep 2023
Thank you
We can't tell you how much Matthew loves his new quilt.

Full of sharks and made with such love. Thank you so much xxx
Finished photos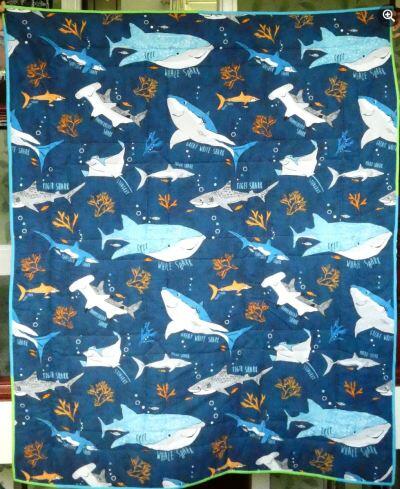 Quilted by:
Leanda
Individual squares
Card

Stitched by: Marilyn Foyle
Biography
When Matthew was born a few things worried me; one was his breathing and the other was when he tried to roll onto his front he would never move his head.
I kept telling the GP and Health Visitor because I truly felt like something was wrong. No one was listening until he was 5 months old; we then got to see a consultant who listened. So we went through the presenting issues and they helped him. The relief was palpable!!!

Then in February 2019 he got a horrible stomach bug; it took out my mum and Thomas too. They recovered really quickly but Matthew didn't pick up and ended up in hospital.

Once he was home we were provided with a consultant to review his case. I remember sitting in her office and just crying, going through his medical history. I looked at her and said 'There is something we are missing; please hear me and tell me what we can do to investigate further'. She took my hand and said none of it looked like it pointed to anything specific so she would run a full blood screening.

That was November 2019 and we waited patiently for the results to come; they trickled in. When we hit the beginning of March we thought we were in the clear and they'd not found anything!

Boy were we wrong......it was the longest phone call from the consultant. I remember feeling numb and I stayed that way for over a month!