Frances W's quilt &nbsp (Quilt Completed)
Born:
2002
Illness:
Spastic quadruple cerebral palsy

Theme: Princesses

Quilt delivered: 2nd Nov 2015
Thank you
Hello everyone,
Frances received her quilt today and she loves it. The quilt is absolutely gorgeous thank you so much for taking the time to do it for her. Here are some pics.
Finished photos
Quilted by:
Melanie
Individual squares
Fabric
Card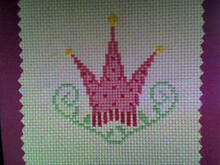 Stitched by: Elaine Ainsworth
Biography
Frances was born 10 weeks early and spent 6 weeks in scbu. Frances was on cpap for first 2 weeks. At 4 months we noticed that things weren't right as she was not hitting her miles stones then at 10 months the doctors confirmed that she had cp. frances can not work sit up and finds it very hard to talk. At 2 years old she was diagnosed with epilepsy and she's had quite a few big fits but they are controlled with medication. Frances has had to have 2 hip when operations at 4 years old this helped a lot with dressing but she's now back needing another one.