Max B's quilt (Quilt Closed)
Born:
April 2012
Illness:
Gut dysmotility

Theme: Football

Date opened: 9th Sep 2017
Date closed: 16th Sep 2017
Deadline: 31st Dec 2017


Theme details
Football - Newcastle United. Ideally, a pug on the label
Child Interests
Superheros, football - Newcastle united, loves blue and green, likes animals such a snakes, dogs, and creepy crawlies.
Biography
Max was born 8 weeks early and was unable to poo and vomited all feeds back. He then was given an ileostomy at 4 month old but because he was really poorly, and then they closed it but caused a perforated bowel.

He struggled to put weight on so ended up on tpn via a central line in his chest which he has for 12 hours every night to give him all his nutrition. We then travelled to Great Ormand Street where he underwent a lot of tests to find out his stomach doesn't work properly and that that the nerves and muscles in his bowel do not work. He then had another ileostomy formed which has helped a lot with his pain.

He is a lovely happy boy who takes it all in his stride. He has started to have jejunal feeds aswell to protect his liver from the tpn. He enjoys football and karate.
Patterns
1.
Newcastle United team badge
Stitcher: Emma Swift, Aberdeen, UK
Received


2.
Cross Stitch Crazy Football design with players, scarf, cup, strip etc. Will use NUFC colours
Stitcher: Eileen, Newcastle, UK
In Progress


3.
Online pattern UEFA champions league logo
Stitcher: Monika, Letchworth GC, UK
In Progress


4.
Football net and ball
Stitcher: Monika, Letchworth GC, UK
In Progress


5.
Heirloom Needlecrafts Footballer dribbling a ball
Stitcher: Heather, Littleborough, England
Received


6.
Peter Underhill quirky footballer
Stitcher: Leanda Vickers, Oldham , England
Received


7.
Les cœurs d'Isa (book) Two football players
Stitcher: Gloria , Sallanches , France
Received


8.
Elephant House chart altered for Newcastle United Football pitch with Newcastle strip
Stitcher: Stephanie Rose, Bo'ness, Scotland
In Progress


9.
Brown haired boy with Newcastle strip on holding a ball
Stitcher: Steph Smythe, Ellistown , England
In Progress
https://www.google.co.uk/search?client=ms-android-...


10.
Footballers by Thea Gouverneur A pair of footballers mid tackle
Stitcher: Carol Ayling, Copthorne, UK
Received


11.


12.
Label
Stitcher: Sandra, Shefford, England
Received
Squares received
Fabric
Card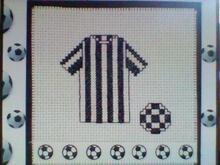 Stitched by: Hannah Garner