Kobi B's quilt &nbsp (Quilt Completed)
Born:
2016
Illness:
Complete avsd

Theme: Animals

Quilt delivered: 26th Jan 2020
Thank you
Kobi's quilt came this morning thank you you very much to everyone who contributed towards it. I love it and Kobi loves it. He keeps sitting on it going MINE MINE lol thankyou
Finished photos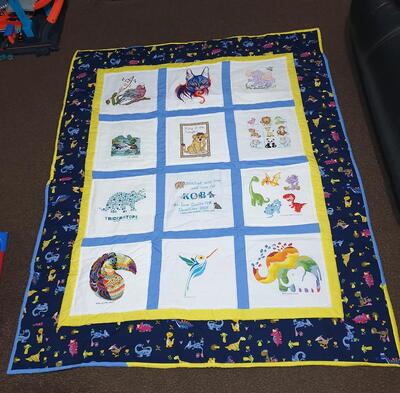 Quilted by:
Julie E
Individual squares
Card

Stitched by: Ruth Horn
Biography
Kobi's heart condition was picked-up around 7 weeks old when he went from drinking 24oz to 9oz a day. We took him to the doctors who sent us to the hospital just to be on the safe side. When we got there his sats were only at 70% oxygen.
That was the start of our times in Doncaster Hospital. He was diagnosed the next day with complete AVSD. We stayed in for 2 weeks but were only home a few day before we were back in. We were in and out over the next couple of weeks, then on one stay he went downhill and crashed. We were told if they intubated him he may die but if they didn't he may also die. He was intubated and transferred to Sheffield Children's Hospital picu for a week until he was stable enough to go back to DRI. A week later he crashed again, was intubated and transferred to Leeds picu. He went between picu and ward 51 which was the children's cardiac ward.
He had 3 oph surgerys during his stay there. He is on warfarin for life as his 3rd op resulted in him having a mechanical mitral valve fitted.
We finally made it home in March 2017 when he was 7months old.
He was tube fed from about 12 weeks to just over 1 year. He had to have physio for several months and finaly started walking when he was about 1 and a half. He had a 4th ohs in May 2018 to repair a LVOTO.
He is now nearly 3 and has been attending nursery in an afternoon on and off for a year and is due to go all day in September. He is still to start talking. He does talk gobbledygook all the time but no one can understand stand him. He will need at least 2 more surgerys to replace the valve as he grows.
He is the happiest most placid boy I have ever known. Doesn't paddy or anything.