Emily B's quilt &nbsp (Quilt Completed)
Born:
2009
Illness:
Cystic fibrosis

Theme: Hearts and Butterflies

Quilt delivered: 23rd May 2017
Thank you
All I can say is WOW!!❤... I have no words for how much this quilt means to us... Emily didn't know anything about it, I wanted it to be a surprise. She was blown away... Thank you to each and every one of you that take time out of your lives to put smiles on our children's faces ❤ I truly am grateful.. to all you lovely ladies that stitched and quilted for Emily's quilt thank you from the bottom of my heart we adore it💖💖💖xxxx
Finished photos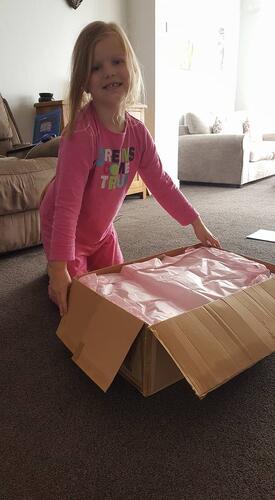 Quilted by:
Valerie E
Individual squares
Fabric
Card

Stitched by: Debbie Elkington
Biography
Emily was diagnosed with CysticFfibrosis from the heel prick test done in hospital. We were then told by the Cystic Fibrosis nurse from the hospital about Emilys CF diagnosis when she was 3 weeks old.

From that day it's been a big learning curve getting used to daily medication with immediate affect. Emily is a little fighter and generally keeps very well with her CF. She is very good with her daily physiotherapy and does a lot of extra dancing classes, hula hooping classes etc to stay as active as possible. She's amazing with her medication and has taken tablets since only just two and a half years old, she now takes approximately 40-50 tablets every day.

Emily is full of life and lives every day to the absolute maximum and won't let CF stop her!!